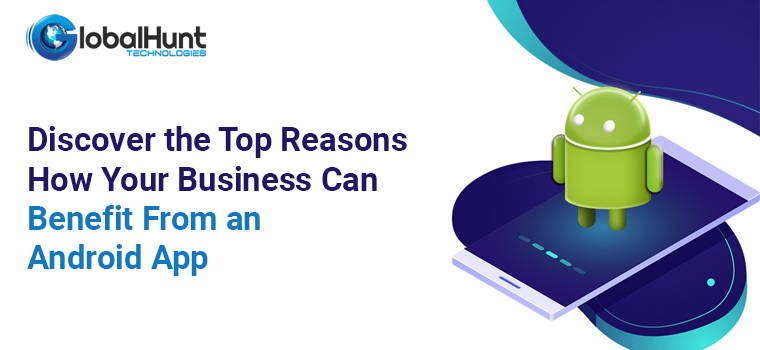 With an average of almost 85% market share. Android is today considered among one of the most popular OS in the world. And more and more business owners and entrepreneurs are starting to shift their focus towards using the Android app development. Especially the one that completely falls in line with their overall business needs. While Google play offers an approximate number of 2.87 million apps that come equipped with enterprise-friendly features and increased protection for businesses to achieve maximum sales and growth. Today a majority of android app development companies in India are thriving at an unexpected rate. Thus convincing more and more businesses to make the switch to using a top-quality android app.
Scrolling our phones from workout videos, health and fitness apps, online learning apps, business consulting apps. To go through messages, notifications, and other communication channels. Every smart customer today is constantly on the phone going through his emails and important office informational pop-ups. Be it riding from work to home, visiting a local market to buy some groceries, waiting at the bus stop, or watching TV. Such opportunities offer businesses the best scenarios to build their potential customer base by delivering a pop-up notification on their smartphones.
Well, let's not dwell on the intricacies. Instead, start reading the below blog to find out some amazing reasons why a business needs a mobile app for Androids.
Take active advantage of the easy security and marketing features
Since google's new mobile operating system comes with a series of major updates. The addition of great new business-friendly features and refinements to android is offering complete protection against any kind of data loss, theft, or intrusion. Thus your business can actively promote your products and services without worrying about the safety and promotional benefits. The built-in system allows you to periodically send important notifications to users thus offering your android app a chance to get prevalent in your target marketplace.
 Android apps cost-effectiveness offers a high ROI
Since Android's software development kit (SDK) comes with an easy-to-download software package. Ans is readily available to both ios and android developers. Thus developers can now easily speed up their integration process by gaining information at a fast pace. Also, developers now have the privilege of sharing prominent technologies at a large scale thus leading to more exposure and increased reach of their brands and businesses. Now developers won't any longer have to worry about the expenses while developing high-performing apps for the Android operating system.
 Android users can now google everything
The google play store offers you a terrible variety of top-performing apps. The ones that are specially catered to offering businesses an extensive and global reach. Similarly, the Android app store s deeply integrated with Google services. Thus allowing businesses to get noticed in the eyes of maximum customers.
Get your business in the eyes of potential customers
Targeting a specific audience with specialized features and significant introductions is now made easy with the increased innovation potential of the android platform. Android app developers can now offer your business high-end app solutions by using both audio and video platforms at cost-effective rates. Hence it's more than clear that the most popular strength of today's android platforms is its global and wide reach across multiple regions.
 The android platform is still evolving
While android is constantly on the go, many smartphone companies are always launching new features to stay ahead of their competition and gain maximum popularity. Many features originate from the Android developers' community. That is a group of people habitual to adapting to the latest technology changes as per the changing needs.
Android apps are appropriate for BYOD
One of the prominent business trends includes mobile operation and Bring your device (BYOD). As their ability to communicate effectively either through a short distance or long distance stays unmatched. Android-based business applications are constantly gaining success. Thus motivating more enterprises to consider taking an approach that efficiently optimizes their employees' use of BYOD devices.
Developers have creative control over running effective apps
Businesses can now develop apps quickly and cheaply with the help of Custom ROMs Installation. Installing free to download versions of custom ROMs on android apps not only offers businesses an outstanding opportunity to run cost-effective apps. But also gives them a superior hold over the way apps were previously run.
You can easily modify the android OS as per your needs
Whether you are searching for ways to make simple modifications or finding it difficult to adjust all the complex changes. Android OS promises to offer businesses an effective and reliable way to bring in significant changes as per their customer and business requirements. Not only the versatile platform offers your convenient and cost-effective features. But it is also committed to offering users an innovative and customer-friendly experience.
Android apps now come equipped with wearable technologies
Wearables offer android apps an easy way to handle all the communication activities. Thus allowing companies to achieve their business objectives. Without failing to deliver the right message, notifications, and calls to the target users at the right time. Corporate culture is slowly getting obsessed with the ever-changing wearable technology. Thus the android apps are necessary for giving enterprises an extra helping hand in managing calls, messages, and notifications.
 Experienced Android developers have helped reduce TTM
With the list of booming technologies constantly flooding the marketing industry. It's becoming extremely important for businesses to quickly come up with a business app. The one that helps them get a competitive edge over their rivals. Hence taking help from the efficient Android app development tools. Not only allow your business to get easy integration of desired features. But also helps you facilitate quick development especially when creating a successful app for your flourishing company.
Whether you have just started your business or own a large-scale organization. If you are finding it difficult to get the best Premium Development Solutions for mobile apps. With the top-notch services offered by GlobalHunt Technologies, you can now entirely focus on expanding your business across digital platforms. If you are on the lookout for professional mobile app development services, then GlobalHunt Technologies can be your best partner. Now you can enjoy the full-stack mobile development solutions and enjoy a hassle-free experience with high-performing digital solutions.