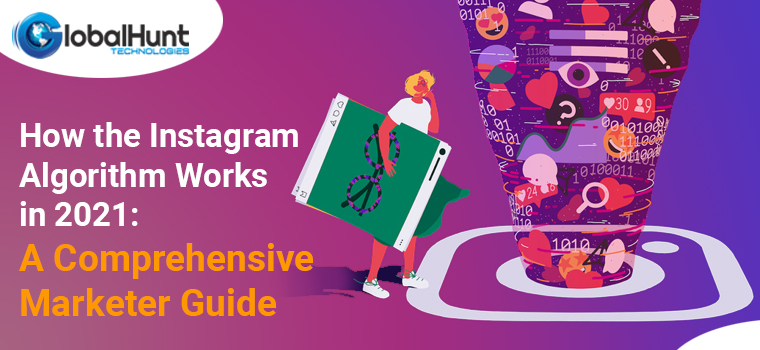 For your convenience, we've broken down the Instagram feed. We'll go over the aspects that affect your content's rating and why the Instagram algorithm is really beneficial to marketers.
Have you spend hours just scrolling your Instagram feed and thought of what keeps you hooked to this social media platform? 
Every time a user checks their Instagram feed, the Instagram algorithm is used to assist them to find the best, most relevant material. The question is, how does Instagram figure out which content fits those requirements?
Learn How Instagram Algorithm: The 6 Key Ranking Factors 
If you're wondering why there's always a new Instagram algorithm, it's because the algorithm customizes what appears in each person's Instagram feed using machine learning. The Instagram Explore page works similarly: it looks at the accounts you've connected with in the past. Then utilizes those interactions to suggest stuff it thinks you'll like.
However, the Instagram algorithm takes into account a lot more. Interest, timeliness, relationship, frequency, following, and usage is the six characteristics that influence what you see on your Instagram feed, according to Instagram.
Instagram predicts how much you'll care about a post based on your interest.
Instagram stated when the algorithmic timeline was unveiled that it displays you content that you're most likely to be interested in first:
"The likelihood that you will be interested in the item, as well as your relationship with the person. This will decide the order in which images and videos appear in your feed, posting, and the post's timeliness."
Instagram looks at your previous activity to figure out how interested you are. So, if you engage with a given genre of material more frequently (e.g., food). Instagram may prioritize content from that genre (e.g., food, restaurants, etc.) in your feed.
According to a spokesperson for Instagram, ranking Instagram posts is not a popularity contest. Even if posts with lower engagement are more relevant to you, they can still appear at the top of your feed. 
Timeliness: When it comes to posts, how recent are they?
Timeliness is the next important factor in the Instagram algorithm. Instagram wants to offer you recently and, as a result, more relevant posts. Only new posts between your current visit and your previous visit are re-ordered by the Instagram algorithm. If you check your Instagram timeline at 11 p.m. and then again at 9 a.m. the next day. Instagram will only sort the posts that were created between your check-ins.
Relationship: The Instagram accounts with which you regularly connect don't want you to miss out on crucial posts. These posts are from your friends and family, such as a post about a friend's engagement. As a result, content from your "best friends" is likely to appear higher in your stream.
Instagram's algorithm analyzes your previous interactions. to identify which accounts you interact with the most frequently to identify who your greatest friends are.
When Instagram ranks content in your feed, it considers profile searches as a signal.
The frequency with which a user opens Instagram.
The Instagram algorithm seeks to show the best posts since the user's last visit every time they open the app. When you open Instagram once a day, you will see the posts that Instagram's algorithm considers to be the most relevant for that day. If you open Instagram every hour, on the other hand, the app will try to show you the most relevant stuff you haven't seen before.
Following: A user's content from all of the accounts he or she follows.
If you follow thousands of Instagram accounts, the algorithm will have to go through even more stuff to select what to show you each time you open the app. Users who follow a big number of individuals are likely to see less from each account. Whereas users who follow only a few select accounts are likely to see more from their closest friends or favorite accounts.
Users who follow a large number of people will see less from each account, whereas users who follow only a few people would see more from their closest friends or favorite accounts.
The amount of time a user spends on Instagram is referred to as use.
What the algorithm shows depends on whether a person browses Instagram in quick bursts or for extended periods of time. If a user favors quick Instagram visits, the algorithm guarantees that the most relevant posts appear first. Users who like longer browsing sessions may have access to a larger archive of new content.
For Instagram Stories, How Does the Instagram Algorithm Work?
Instagram Stories that appear at the top of your page is usually from profiles with which you interact the most, whether through likes, comments, story views, responses, or direct messages.
The Instagram Stories algorithm also prioritizes timeliness. As it wants to make sure you get the most recent stories from your favorite accounts at all times.
If you engage with an account on a frequent basis, their new stories will be pushed to the top of your feed every time they publish, even if you've already seen all of their prior stories.
You have a better chance of reaching viewers as they peruse their daily tales if you post to Instagram Stories more frequently. The more views you get, the higher your rating will be.
Fortunately, updating stories on a regular basis has just been a whole lot easier. Later now allows you to plan Instagram Stories, ensuring that you never miss an opportunity to connect with your audience.
Learn Instagram Algorithm Working on the Explore Page
Overall, the Explore page and the feed algorithm are very similar – they both show you material that Instagram believes you'll like based on your previous interactions.
Your Instagram feed, on the other hand, will be mostly made up of content from accounts you already follow. The Explore feed will be almost exclusively made up of stuff from new accounts.
The Explore page is always changing, with new topic categories and advanced search features being added all of the time.
For example, you may now get relevant content feeds by searching for keywords and hashtags:
This indicates that the Explore page algorithm considers far more than simply the tags on your posts, including the actual visual material and words in your caption.
Fortunately, getting your Instagram posts to appear on the Explore tab isn't as difficult as you would think. The Explore page algorithm aims to provide users with the most relevant content possible.
For IGTV Videos and Reels, How Does the Instagram Algorithm Work?
The algorithm favors content from the accounts you interact with the most, as well as the types of posts you normally connect with, for IGTV videos and Instagram Reels.
Instagram suggests IGTV videos and Reels in relevant Explore pages. This includes the new Reels tab, in addition to the home feed.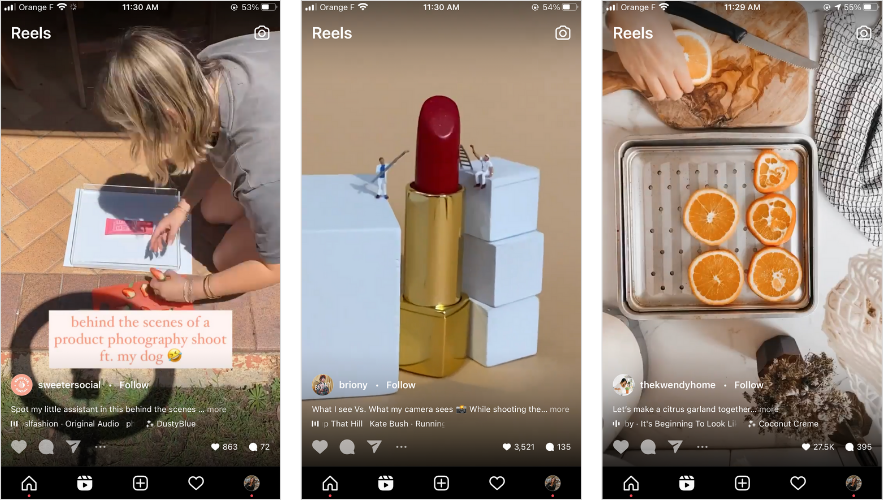 Additional Ways to Improve Your Instagram Algorithm Ranking
If you want to boost your Instagram algorithm rating, the greatest thing you can do is generate as many interactions as possible (likes, comments, DMs, saves, and shares).
You'll quickly find that your material is being shared with new audiences. As a result of the momentum, you've built with your existing group.
Take Advantage of Instagram's Newest Features Are you looking for a quick strategy to gain favor with Instagram's algorithm? Instagram Stories Stickers Can Help You Get More Interactions,
Instagram Stories stickers are a terrific method to increase audience engagement. The more engagement your stories generate, the more the Instagram algorithm will elevate them.
There are many Instagram stickers to choose from. The poll, emoji slider, and question stickers are the greatest for increasing engagement.
Drive Conversations with Engaging Captions and Comments Instagram has indicated that comments are really crucial for feed ranking. Thus encouraging as many as possible for your posts is a fantastic idea.
Writing strong captions that generate engagement is one of the finest ways to do this.
This might be as simple as asking your followers to contribute their opinions or views in the comments section. Using CTA's like with a double-tap if they agree, or tagging a buddy will also help.
Make the Most of Your Hashtag Strategy
Using hashtags in your Instagram posts is one of the most successful ways to reach a larger audience. This means more "views" for the Instagram algorithm to consider.
You won't only reach more people with a solid hashtag approach; you'll reach people who are relevant to your brand and most likely to engage with your content. Use Instagram to cross-promote your other social media accounts.
Cross-promoting your Instagram content is a terrific place to start if you're looking for a quick and easy engagement victory to help increase your algorithm rating. The number of channels via which you may post material on Instagram has increased as well: feed, stories, IGTV, and Reels.
Whatever approach you use to boost your algorithm ranking in 2021, the most important thing is to put your audience at the center of your approach.
Developing a true relationship with your followers is the most effective approach to "hack" the system. It will also benefit your brand.
So, to leverage your Instagram stories for your business, make sure to get in touch with GlobalHunt Technologies the best digital marketing agency to experience the difference.