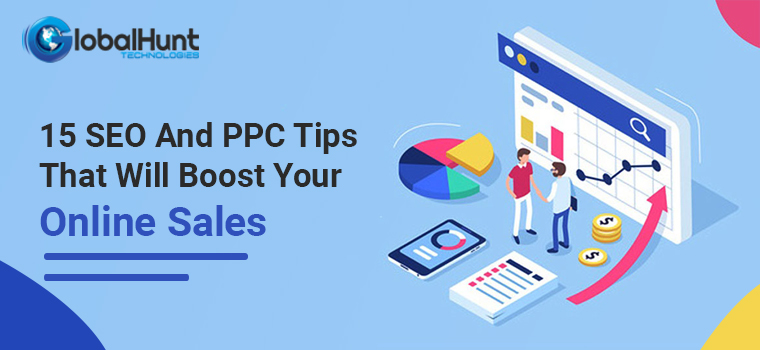 If you are ready to draw more customers and bring more sales to your business, here are some tips that will help in aligning with the right SEO and PPC. Wondering why it is important? SEO and PPC are vital to the growth of any website. You can have an amazing reach across the internet with the help of SEO and PPC. There are COVID – 19 uncertainties across the globe and the different sectors are affected, but it also brings an opportunity for you to grow online.
Marketers, who want to stay at the top in the market, are realizing the need to be on top online. The online presence brings in leads for your business. It has been such even before the pandemic; however, the chances have increased to grow online now. This is because more people are accessing the internet at this time and this is the chance for you to become visible.
As the digital transformation has given a flux to online engagement, people want to invest more time in drawing people's attention via the website, online shops, videos, etc. When you are a seller, you are looking for methods that allow your product visibility, which is easier to reach with the help of SEO and PPC. The strategies can help you seize opportunities like never before and you can be more successful. Here are the trends and tips to know for SEO and PPC in 2021 that expand the virtue for online shopping.
Once you understand these concepts, you will be able to enjoy a successful business season while the lockdown restrictions tend to continue. You can start to lay the foundation now, to have greater results while more traffic is still browsing through online products. With these SEO and PPC tips, you can start to have a greater audience.
One thing that you must know is that e-commerce has shot up in this period and online retailers have a maximum chance to grow at this time. There's an incredible increase in the online shopping practices of consumers and the shift seems to be permanent as maximum people will consider online shopping first. A very few percent of people agree to move back to their old shopping patterns.
As online shopping practices have become more prominent, SEO is considered a vital channel for marketers to reach more audiences. When everyone is scrolling through the internet, SEO can offer a great channel to observe client behavior.
Another big factor to use SEO is that you can understand consumer psychology, which will help to build up strategies for better lead conversions. You will have access to consumer information, products, and services that they might need, also reviews help a lot in knowing the areas you need to work in or how better you are at drawing people to your services and products.
New technologies are surging and you must take advantage of them in reaching more clients. Here are some SEO tips that will help you.
1)Keep A Check On Your Local Search Listings
These are essential sources for anyone who is looking forward to buying from you. Even if no one can visit you in-store and everything is conducted online, you will still need to check for the product availability as the customers will come to you and they must get accurate information.
2) Search Analysis
The best way to keep customers drawn to you includes that you must keep an eye on what are they searching for. You must know about the search queries and this is one of the fantastic ways to learn about consumer behavior, which will help you influence potential customers easily.
3)Content Development
Content must be developed around consumer demand and they can trust you that you understand the situation a customer is in. Hence, it helps create a better information page as well as develop a good connection with the sellers.
4) Website Analytics
Website optimization stays the greatest traffic driver for several organizations. Take a gander at how SEO guests absorb and use new information and what are their behavioral changes. The inside search on your site is an extraordinary asset, as well. In the event that clients are looking for specific items, it recommends they can't discover them rapidly enough inside the primary route.
5)Consider Search Beyond Google
Vertical search engines, that keep the focus on specific categories such as travel or fashion, are still valuable. They have the advantage of clear client goals and regularly, somewhat lower contest for search promoting space. It is additionally worth distinguishing video web crawlers and, conceivably, making explicit substance to feature your item benefits.
6)Shopping Strategy
Since free postings have gotten back to Google Shopping, SEO and PPC have considerably more approaches to cooperate. The postings are taken care of by the Google Merchant Center, so it's anything but a smart thought for the paid and natural quest groups to cooperate on the procedure for seasonal shopping this year.
7)Inclusivity Of Google Visual Content
You will have seen that Google is an inexorably visual stage. To exploit, advertisers should be somewhat more imaginative. Add pictures and recordings to your internet business design and guarantee consistency across both SEO and PPC.
8)Pick Your Battles
The list items pages change fundamentally across inquiries, and in any event, for singular clients. Your PPC spending will just go up until now, particularly during the top season. Use it to target high-esteem inquiries where paid postings rule the outcomes. For SEO, search for freedoms to rank for inquiries that will draw in a high active visitor clicking percentage. Be particular and utilize each channel to its qualities, making up for the other when you need inclusion.
9)Test Your Content Via PPC
Paid pursuit has consistently been tied in with testing and learning, and never more so than today. Evaluate new varieties of brand informing and symbolism to perceive what turns out best for the crowd, then, at that point utilize these exercises for your SEO resources. At a particularly eccentric time, utilize any opportunity you will acquire moment criticism.
10)Funnel Expansion
Individuals head to web search tools for a more prominent scope of reasons than at any other time. For instance, they use Google to design thoughts far ahead of making a buy. This year, the thought stage will be significant. Foster an assortment of client use cases and go past the typical channel to catch new interest. Then, at that point, you can choose where to adjust SEO and PPC endeavors.
11)Merge Google And Amazon To Promote Business
The online business client venture is profoundly divided, however, we can't prevent the gravitational draw from getting Amazon. Amazon promoting is progressively complex and will before long be joined by Walmart's further developed publicizing stage. Plan your internet business spend across all retailers and web search tools, then, at that point adjust rapidly as you measure the profit from each channel.
12)Exploit Ad Extensions To Your Benefit
Clients are searching for extra data about items and if you are giving any services. Use promotional snippets to show customers how convenient it can be for them to hire you. Also, watch out for new augmentations you can utilize as offered by Google. There are several advantages that one can take up when promoting their business online.
13)Revising Blogs With New Content
Use SEO information to make the new, pandemic-related substance. Utilize paid pursuit to acquire some early traffic and cover basic holes. Instructive inquiries will in general cost less per click and are an incredible method to fabricate trust with your crowd.
14)Up-to-date information on inventory
Google's neighborhood promotions give a chance to match up your store and web-based business stock with search. Shoppers can look and look through things that are available, so they can make a fast buy.
15)Utilizing Automation To Its Best
While manual bidding for PPC is great for control, it is inflexible when faced with volatile demand. Use automated rules and artificial intelligence-led smart bidding to keep pace with what will surely be an unstable period. Automation is one of the useful tips that can also help you plug gaps in your SEO and PPC strategy via real-time market insights.
Final Word
All advertisers are in a similar circumstance right now. The broad patterns influencing us go a long way past the customary dispatch of online business practice, and introduces a good chance to grow. We realize that internet business will be a crucial asset for clients and they have needs, which can be converted into successful business leads. The exact idea can't be anticipated; however, strategies can be built to make the most out of these situations. Follow the given SEO and PPC tips, plan now, and you will be in an extraordinary situation to take advantage of your online presence. If you do not have the confidence to conduct the process, you can connect with our team at GlobalHunt Technologies the best digital marketing agency and we will sort the business growth plan for you.