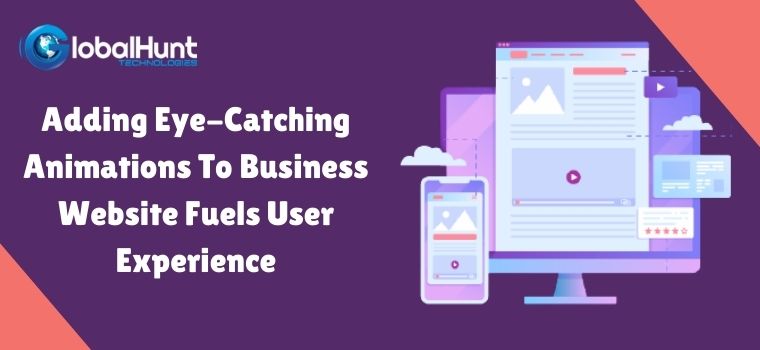 They say action speaks louder than words so imagine what an animated picture on your business website can do. Yes! Animations on the website can take your business world-by-tail and fuel user experience.
With businesses seeking creative ways to stay relevant in today's competitive market, animation stands out as a powerful design strategy that can add life to a website and hold the attention of users. Adding animation to your website may be the best method for improving your website experience.
 In this blog post, we will unveil how adding the best animations to a website improve user experience and give your website a competitive edge. Now, the primary question that might be pestering you is –
Website Animation – What is it?
Animated graphics involve moving images manipulated to look like movies or videos. When animations are used in web pages, they are called web animations. Therefore, website animations include animations used in web design that include:
Animated data visualizations
JavaScript animations
Web-based game animations
Motion graphics
CSS animations
Sprite animations
Animation boosts user experience – how?
Animation isn't a buzzword in today's digital space, right? It is a thing of the past and has been used by various enterprises back in time and even now. Especially in industries where attention is needed to be drawn, the animation is the most suitable solution.
When animation is present on a website, users tend to stay there for 2.6 times longer, as per the statics and research.
Human psychology is to blame for this, your audience out there likes interactive and colourful visual graphics. Videos and animations are the most powerful ways to engage people in the current age where their attention span has been shortened to just 8 seconds.
Web design can benefit from animations in many ways. Website layout and its overall appearance are given an anaesthetic and animated look by using them. By using simple animations, you can help your users understand which button they need to click or where they should go next on your site. Web animations used by the Best Website Development Company help guide users interactively and allow them to enjoy browsing. An animated user interface (UI) can help make the user feel connected to that interface through its emotional appeal.
The success of your website is determined by how much traffic it gets and the bounce rate. Having a website with animation will make users feel happy about your website when they enjoy browsing through it.
Below we have illustrated a few best website animations that build up users' website browsing experience.
Kinetic Typography 
An animation technique that combines typography with animation is Kinetic Typography. There are myriad big brands and honchos of the industry that are using kinetic typography in web design to render a feel of text movement. 
The most impressive aspect of this animation is how a basic word is mingling with appropriate tone and font to elicit emotions and connect between the users' eyes and its subject. On a site, kinetic typography allows users to concentrate on what is being said or focus on the company's key message. You may include this animation on your website to show off unique font styles to your visitors.
Hover effect 
The hover effect is a well-known online animation effect. In fact, in today's web development industry, it is the most extensively used type of website animation. It's a CSS animation that adds mobility or varied interactive features to a web page to highlight crucial objects. Users find it hard to stop hovering over objects because of the pleasant effect of hover animation. Since it allows web designers to produce stunning web pages with minimal effort, it has a significant impact on website UX. It goes without a say that the hover animation effect can be used in many portions of any web page or pillar page.
Background Animation
Background animation can be seen on the homepage or at the top of the page. It enables customers to grasp the company's mission as soon as they land on a website. Various businesses, ranging from finance to healthcare, employ backdrop animation to promote their organization in an engaging website theme. This type of web animation functions similarly to an animated business card, providing an overview of a company's services. You can utilize various patterns on the website backdrop to offer users an idea of your niche as soon as they enter your business website.
1minus1
1minus1 is a game development and marketing firm. And their homepage stands out from the rest of the digital marketing agency websites. This webpage is one of the best examples of CSS animation. During the loading process, an animated logo appears. When a user scrolls down the website, the cursor changes to a dot with a circle and various unique animations appear. As a competent site design firm, we comprehend how they operate. This website graphic shows that when a firm exhibits its ability to perform precisely what it does with design, it readily hooks users and, as a result, increases online conversions.
Bruno Simon 
Bruno Simon is a freelance web developer based in Paris, and here is his website portfolio. This man has drastically changed the way people think about website animation. He has transform an entire website into a fantastic interactive 3D game.
When a visitor comes to the site, he or she must scroll among the selections using an animated SUV as a scrolling cursor. As you read through the site, you'll notice numerous gamification options that help to learn more about his projects, social media profiles, and web design services.
It's also a joy to browse this site because it's so dynamic. You can incorporate gamification-based animation into your website and allow people to interact with it.
The Digital Panda
Digital Panda is a creative agency based in Canada, and this is their website. They also demonstrate why they create. They incorporated cutting-edge 3D animations in their web design. When you scroll across the site, you'll notice some lovely 3D dynamic graphic components. The Digital Panda website features various hover visual effects and has utilized Easter eggs in its mobile website design to make it mobile responsive.
Liquid Movement
Top website designers employ this style of animation as well. Liquid Motion is a motion graphic effect in which liquid-like shapes appear. When interactive components are add on to the user interface, it makes it more appealing.
It encourages visitors to interact more with the website by triggering easy-flowing transitions on hover/on click. This promotes customer engagement. You may use this animation to offer your site a more attractive appearance and enhance the user experience. Liquid animation is excellent; it has a smooth and fluid motion graphic with swirls or ebbs that gives people a sense of flowing beauty.
Lusion
This is the website of Lusion, a creative studio firm situated in the United Kingdom. Take a look at the web animation they employed. Isn't it phenomenal? The Lusion website features a number of unique animations. The site begins with a loading screen, followed by unique motion graphic components. It has a unique scrolling effect that exhibits a constantly flickering circle light. The level of innovation used in the layout, page design, and scrolling effects would impress anyone who views this site.
Isometric Animation 
Isometric Animation is a three-dimensional representation of a two-dimensional graphic model. This is one of the most popular web design trends, and it has given designers access to a whole new universe of presentation and viewpoint.
Isometric Animation's best feature is that it provides a clear and realistic perspective for creating motion graphics. It achieves a good balance of 2D and 3D design. This type of animation is best and highly suitable for mobile app development sevices, recruitments, business investment, and more. 
Closure
Now, if you know why a few businesses having no eye-catching animations on their website are falling flat on the ground. In today's graphic and animation world, if you overlook the importance of adding animation to your website then it is a sign of impending dooms. Enough of that harbinger! GlobalHunt Technologies is there on your rescue if you want to add a few amazing website animations that improve user experience. Our website development services are there to give your website life. Schedule a free consultation today.
Read More- Top Reasons To Choosing The Best Tech Stack For Your Web Development Project