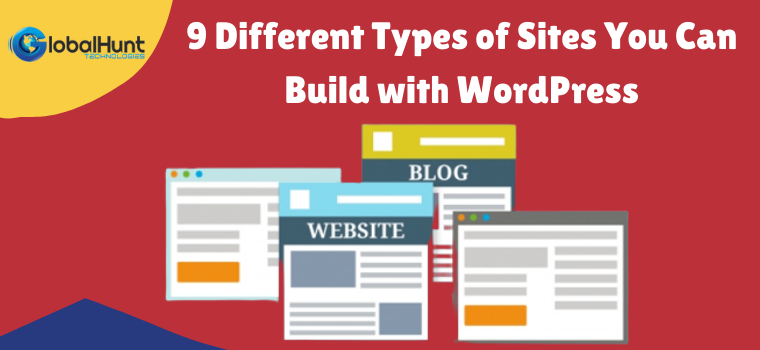 WordPress is a great CMS platform that is one of the most popular platforms. You don't need any technical experience to create the website of your dreams using WordPress. It is not necessary to invest a lot of money to get your website up and operating.
You can create about any form of website you can imagine. In this guide, we'll cover a small portion of the types of websites that may be created with WordPress. WordPress is a simple-to-use software that aids in the creation of scalable business websites. Most businesses prefer it since it is a search engine-friendly platform.
9 Types Of Sites Build With WordPress
1. Personal Website or Blog
WordPress was mostly used to create blogs in its early days. One of the primary motivations for building It was to provide a superior blogging platform. The most basic and extensively used sort of website developed with a content management system is still this one.
WordPress is now used on a much bigger scale, yet it continues to be a fantastic blogging platform, especially when compared to the most popular systems of its sort, such as Blogger, Joomla!, and Tumblr. Whether you want to build a personal or professional blog, WordPress provides more than enough functionality to ensure that you receive all you need.
The CMS has come a long way since its inception. It comes with a plethora of themes and plugins that will assist you in optimizing your SEO while also allowing you to design your own unique blog.
2. Websites for Businesses
WordPress is utilized by many worldwide and significant regional brands all over the world because of the wide selection of themes it provides. Being on point with product presentation and having the necessary tools to do it is extremely important for organizations. WordPress makes it simple to add images and videos to your website, and it also comes with a slew of extensions to help make it more user-friendly. WordPress is used by some of the world's most well-known brands, like Mercedes-Benz and Sony Music.
3. Websites for E-Commerce
WordPress is increasingly becoming the go-to choice for enterprises new to eCommerce. Payments, inventory, sales tax, and delivery can all be handled through extensions. WooCommerce, a WordPress-based e-commerce platform, is used by a large percentage of online store owners.
Aside from WooCommerce, there are a plethora of free and premium plugins that can assist you in setting up your online store. The ability to provide a stable eCommerce experience demonstrates that WordPress has grown much more than it was at its inception. With each new version, the platform expands, bringing more and more capabilities to the table.
4. Wiki Sites
Making your own Wiki site may appear tough, and it will undoubtedly take up a significant amount of your time. To do things correctly, you'll also need to perform a lot of studies. WordPress is here to assist you in creating a fantastic wiki site for you and the knowledge base you've chosen.
After you've figured out what it takes to make a wiki work, you'll need to know where to start once the site is up and running. We'll walk you through a few steps to help you create your own Wiki site using WordPress.
5. Websites for Social Media
To begin, let's look at the fact that Facebook Newsroom is built on WordPress. When it comes to social media platforms, Facebook is unavoidable. You may try using WordPress to create a comparable site, or even simply a small online community with shared interests. WordPress can also assist you in creating a forum, and it includes a registration code plugin to help you keep trolls at bay.
Simply spend some time browsing various social networking websites. Find out what the most important features are and use your imagination. Depending on the type of group you're promoting, you can even add a wiki page to your own social media.
6.Affiliate Websites
Want to earn money by referring items and services to your users? Millions of marketers utilize WordPress to build incredibly profitable affiliate websites. It comes with a slew of affiliate marketing tools and plugins to help you increase your profits.
You can join individual affiliate programs or set up an Amazon affiliate business that relies on a single large affiliate network.
7. News Websites
WordPress is an excellent platform for creating news websites, which should come as no surprise. Because of WordPress's popularity, a plethora of tools and approaches have been developed to make WordPress-based websites more SEO-friendly. This is particularly crucial for a news website, as it might put you ahead of the many competitors online right away.
Posts can include text and photographs by default, and WordPress includes a comment section, which is another important feature for news websites. Additional plugins can help you monetize your efforts by allowing paid subscribers access to premium content while restricting access for the rest.
8. Portfolios
WordPress themes used to appear as they all came from the same mold a few years ago. Fortunately, things have progressed significantly since then. WordPress themes currently come in all shapes and sizes, and they cover practically every niche imaginable. Artists, designers, photographers, and a slew of other professionals have flocked to the platform because of its vast design features.
9. Question/Answer Website
The internet can be a really nice place where people help one another and share their knowledge and experiences. If you want to be a part of this never-ending information exchange, a Q&A website is a good option.
Although such capability is not included by default in WordPress plugins such as AnsPress can help you out. You can make the Q&A platform the centrepiece of your website or simply a tiny area of it. Support for several languages, reCAPTCHA, push notifications, a voting system, and other features are all included in the plugin.
Conclusion
As you can see, WordPress makes it simple to create a variety of things that aren't simply about blogging. You don't even need to know how to code for most of these applications. You can also hire the best WordPress developers here that will provide huge solutions that show the ease of use, open-source nature, and unlimited integration options of WordPress making it a very appealing alternative for people of all technical abilities.
Read more- How to Hire A WordPress Developer?