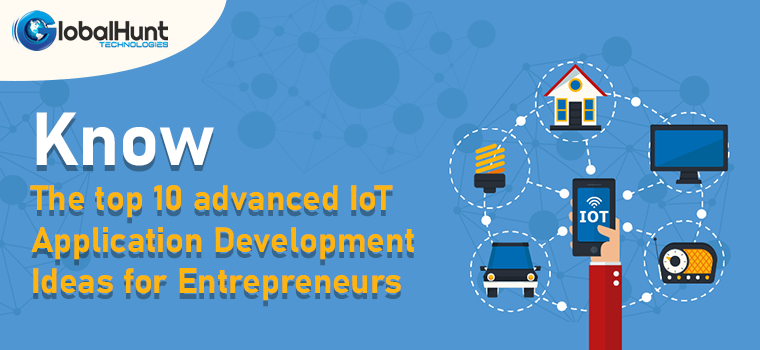 While IoT application development is constantly opening new doors for businesses and individuals. Many industries are seeking new opportunities and being gradually transformed from every scale by joining hands with emerging IoT application development.
In the modern digital world, where every business is turning online IoT or the Internet of Things is becoming more and more essential by many professionals around the globe. The dominant and all-powerful technology is currently fulfilling the ever-evolving needs and problems of various consumers. 
Hence for individuals and entrepreneurs looking for ways to successfully establish their business venture, IoT serves them as the best option. Not only businesses across every industry are tracking their performance with the help of the Internet of things. Thus upgrading their existing platforms inexplicably. 
Many experts and digital marketers also have declared that the scope of IoT technology will continue to make a bigger impact on not only business operations but also every aspect of human life. Hence these predictions come with no doubt that your business scope will evolve over time with the expert support of IoT technology. Once a secured connection is established between an electronic device and the internet(World Wide Web) or a particular network like Bluetooth, or VPN. 
One of the core stunning features of using IoT technology is you can easily operate it using a smartphone and by connecting your device through a mobile application. 
Another main advantage of IoT is that it solves the tiring issues of both consumers as well as the different industries. Hence being an entrepreneur if you are searching for ways to bring a problem-solving idea into action. Then the possible implementation of IoT Application Development Ideas can be a wise investment. 
Continue reading the below blog to find some of the remarkable and Emerging IoT Application Development Ideas that can offer Entrepreneurs a smart and efficient way to successfully establish their own business venture. Find out how bringing these problem-solving ideas into play can efficiently solve the current requirements of different industries. 
 For Manufacturing & Industrial Sector
While some industries like manufacturing and industrial ones completely rely on business efficiency to generate a large number of ROI from their daily input. These two basic industries are in need of top-performing applications to help speed up the process of tracking daily machinery operations with key metrics. Hence not only the development of IoT applications can not only save money by offering top-notch monitoring and performance analysis-based platforms. But also efficiently improve the operational efficiency and thus serve as the key drivers for OEMs. 
Thus it's been conveniently proved that the rules of manufacturing. The evolution of digital factories and the operational performance of businesses are being superiorly transformed by Industrial IoT. It also works towards fueling cloud and edge innovation by accelerating the growth of digital solutions and enhancing business operations. Not only consumers can save time and cost with the help of these innovative industrial IoT solutions. But also magically reduce the challenges faced by entrepreneurs regarding unexpected downtime and improving overall maintenance strategy. 
 For the Transportation and Mobility sector
The mobile and transportation industry are among the two main sectors demanding expert IoT application development solutions. Not only using these applications the transportation and mobility sector can benefit exceptionally. But they can also take added advantage of improves telematics and fleet management. Either by vehicle tracking or by connecting the local operating system within the car for battery monitoring, vehicle diagnostic, tire pressure monitoring, and driver monitoring as well. 
Being one of the IoT startups or entrepreneurs can supposedly help improve your business performance by creating top-class IoT applications. Thus offering the transportation and mobility industry to monitor and display key metrics. At last, many companies across the globe are solving transportation and mobility problems through IoT app development. 
With the ground-breaking numbers of global energy consumption crossing the lines, the need for smart energy solutions is ever-growing. For which IoT commits itself to transform every segment of the energy industry. Be it production, distribution, transmission, and more. By trusting the prominent IoT technology energy providers and companies can effectively focus on remote asset tracking and management, developing more transparency, grid optimization, predictive maintenance, and energy distribution. 
For energy industries searching for a one-stop solution to save their daily significant operational and product cost. And at the same time track and monitor key elements of their daily operation. Entrepreneurs struggling in the energy industry today can focus on building top-notch IoT applications. 
Well, earlier retailers were not so aware of the fact that IoT applications have the ability to help them. It also enhances their cost-efficiency and in-store customer experience. But today more and more retailers are realizing that they can make use of innovative IoT technology. As it can efficiently open its e-commerce stores by creating smarter processes. Also, retailers are slowly becoming familiar with the fact that the development of trending IoT apps. It can be skillfully done not only for customer tracking and management, and inventory management. But, it also helps for developing in-store digital signage, smart vending machines, and product tracking as well. 
Retail-store owners won't any longer have to worry about tracking anything within their store and offering their potential customers quick and adequate information about their in-store products. 
Various parts of the world are becoming more and more equipped with the concept and reality of smart cities. Hence it's no more a dream project anymore. Since smart cities are filled with smart devices with strong internet connectivity. For the hands-on operation and functionality of these smart devices, individuals will be in dire need of mobile apps. That's why today more entrepreneurs want to invest in the android app development for IoT. With such apps, users can easily keep a watchful eye on the connected traffic. It can efficiently monitor important activities with the help of their better affordability and diverse functionality. 
 For the Healthcare sector
The slow-moving growth in the healthcare industry offers startups and businesses to become the first investors in healthcare app development. Today when every healthcare professional is in desperate need of highly-functional healthcare applications not only for supporting remote monitoring, and robot assistance. But also for easing up their work of digital diagnostics, and telehealth consultations effectively. The health industry can hugely benefit in the future with the help of productive IoT apps. It can also offer exceptional assistance in optimizing workflow operations. These are medical device monitoring, pain medication, health team coordination, and patient monitoring. 
While looking for ways to make your complex logistics management easier and work on improved industry-related solutions. The supply chain is known as a significant part of logistics management. Since speed and operation persuade the most important factors by supply chain professionals especially when it comes to supply chain management. That's why more and more supply chain experts and entrepreneurs persuade at investing in IoT devices for efficient logistics and supply chain management. Due to this, there is a good business scope.
Supply chain professionals now won't have to face trouble in building IoT-based applications with convenient features quickly and smoothly. Either for inventory, and storage management, connected workers, asset tracking, condition monitoring, and automated guided vehicles. IoT tracks across the supply chain as it's significant since the Covid-19 pandemic. That's the main reason why mobile app development companies are focusing on providing high-end solutions to struggling supply chain professionals.
For the agriculture sector
Earlier agriculture was not equipped with smart solutions but today the Internet of Things is constantly making efforts to bring enormous change to the agriculture industry. IoT is helping farmers across the globe by offering them efficient solutions and solving their problems by making informed decisions. Thus increasing the crop yield and saving valuable costs more than ever. Entrepreneurs today can come up with smart applications that can help the agriculture sector by offering them top-class functions. Some of which include multiple functions of livestock monitoring, and irrigation management. And other include smart agriculture options such as mapping fields, analyzing crops through drones, and precision farming.
Today when major companies persuade about desperately investing in smart building control systems. And focusing on decreasing the operational cost, and improving productivity and efficiency through advanced building life cycle management. Buildings are automatically offering new business opportunities. Hence Startups, entrepreneurs, and business ventures can dedicate their complete focus on developing robust IoT-based applications. Thus offering real-world individuals real-time data about lighting, facility automation,  fire extinguishers, security, smoke alarms, and elevators. And also a number of other innovative solutions for building life cycle management. 
Today when both millennials and Gen-Z are demanding the increase in the production of innovative wearable gadgets such as smart glasses, fitness bands, and smartwatches. Wearable technology and devices are increasingly gaining recent prominence in the consumer electronics market. Since wearable gadgets need  IoT sensors to capture users' data and present it on their smartphones, IoT applications are required. Due to covid- 19 individuals have become more concerned about their health. Thus they ask for more intelligent IoT mobile applications and Wearable app development from entrepreneurs. They are slowly developing a soft spot for gadgets and apps that can help them with their health-related metrics like daily steps walked, running, heart rate, and calorie intake. 
The day when health care applications will be able to offer efficient functions in IoT wearables. That day users will no longer have to worry about installing multiple apps for early disease detection, and prevention, remote diagnostics, and health monitoring, and advanced personal care options for patients. 
Conclusion
With the above statements being true to their origin, the growth of IoT will likely continue to rise with high speed. Hence for future startups, ventures, and entrepreneurs wondering whether to invest in IoT, it's an amazing chance to achieve broad business scope by trusting IoT. Searching for a professional company to collaborate with that can help create a marvelous IoT application for your venture? Contact GlobalHunt Technologies today and get access to top-notch app development services which help offer you success in the potential market by solving all the consumer and industry-related problems. The highly skilled team of advanced IoT application developers at GlobalHunt Technologies is dedicated to offering you advanced and innovative IoT services.
Read more- Your Step-by-step guide to making a thrilling game app that makes you rich