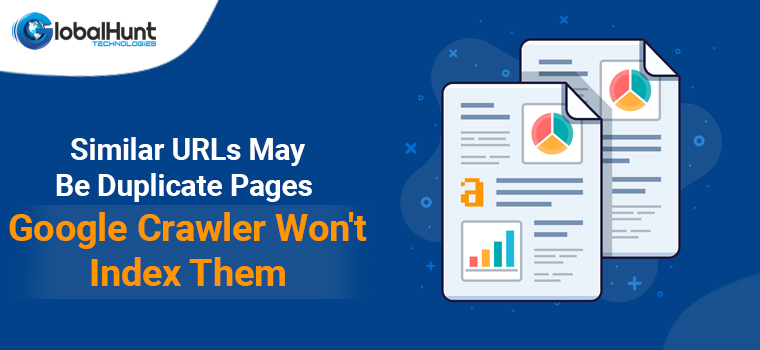 Google's predictive duplicacy on similar URL structures has spread like a fire. This important revelation speaks how Google considers the same structures as duplicates as told by John Mueller recently. There was a discussion on March 5th where one of the participants, Ruchit Patel, stated that he is engaged in managing an event website, where URLs are not correctly indexed.
After Mueller spoke about how the crawlers were identifying pages as duplicates via URL, it is realized that the method could make wrong assumptions. There could be several pages tagged as duplicates while they were fresh, updated, regularly checked and under constant changes with providing new and informative content.
We already know how the crawlers index the pages. This is to offer effective and informative content to the users. This has helped the users to find content that is worth reading. The data included in these optimized pages have intrigued the users for sure. However, there are other methods too that follow for the optimization with one being the URL structure one. Crawlers assume if the content is duplicate on a page with the help of URL structure. This is likely when the URL structure is the same and crawlers might think that all similar URLs could have the same information or data.
This method seems to be effective and interesting for Google, but the website owners will lose their efficiency with a method like this. Their unique content wouldn't get the visibility they are expecting. When we log on to a website, the website URL patterns are similar. That means Google crawlers might miss out on the specific and unique content shared on the website.
Mueller Explains Further
What Mueller has tried to put forth in the discussion is that there are different levels of checking the duplicacy of content or a web page:
One way is to look through the pages directly and determine that the pages have unique content of their own so they must be considered separately.
The other method with the URL approach is an expanded way of determining the duplicate pages. In this method, past records come into action that URLs of a certain kind had similar information to shared as already shared on another particular type of URLs. Hence, the crawlers learn about duplicacy based on the URL structure.
It is possible that two different websites are sharing the same information but one actually made an effort to prepare the entire unique content and the other just shared the same ideas later. The URL structure method will simply recognize if the URL structures have shared the same information and the duplicate page will be left by the crawlers.
This method is developed on critical analysis of how websites include similar information by changing a little. There's been a lot of duplication in the past. Thus the method is prepared to skip the duplicate websites while saving resources and time.
A lot of times irrelevant changes are induced in the content or website URLs, which don't make sense but are followed by the creators to just share some information. This information is already present with the users. They wouldn't be happy to see duplicate content present in front of them when they were searching for something valuable. Website owners also share the same information under alternate names, which is again misleading. Hence, the URL method is developed to simplify finding relevant information, which is true, makes sense and is not copied from elsewhere.
Coming On To The Event Website
Mueller explained that an event site might be delivering similar services to different cities and areas. To promote the website they mentioned the same services through different web pages where city names or location was different. However, the crawler already went through the content in past pages and found it to be duplicated. It assumes that the rest of the pages with city names is also the same. Also, it might take the city keyword as irrelevant because it has already prepared a record with the same content in the past 10 pages may be. Hence, the city names are completely ignored causing the pages to be indexed in a different manner than before.
It is possible that other pages had different content. There are more services to explore or even information that helps people connect more. However, the opportunity to rank better is lost because too duplicate content in the previous pages. Now that a pattern about URL and the data shared has been developed. The crawler wouldn't turn to any other page to check for unique content.
It isn't just a one-day implementation but has been noticed for years on how website owners do not care to add more information on different pages. It consumes time to go through all the pages of a website. If the matter or information shared is all same, it is not worth it to keep crawling from one page to another. This saves a lot of time and ranks websites. This has familiarized the users with different important stories on different relevant pages.
Why Is This Predictive Pattern Building Assumptions?
It's been observed by the SEO experts at Google at several websites have the same content on different web pages with minimal difference. The only thing they are targeting with those different pages is location. This meant that the location wasn't even relevant to the page but the services. Hence an observation developed, after analyzing different websites, that a significant number of websites didn't even bother to talk about their services further. If there was anything different, it must have been on the pages and accordingly the URLs must have been structured.
Coming across several websites, that only share content that is once developed and recurringly posted, the predictive assumption method was developed and it saves resources for Google.
How To Fix The Problem For Your Website?
Websites have only ranked for quality content. Google has been changing its algorithms and will continue to do the same in order to offer valuable information to the user. If you are providing repeated or duplicate content on your website that is certainly not quality work to do.
Duplicate content means to steal the idea from other websites. However, when you are doing it on your own website, publishing the same matter for several pages. Google crawler doesn't find it worth crawling through it index your page. Although there are no negative ranking algorithms implemented for this yet. The least would be that the duplicate pages won't index. We might expect some penalization later, but this isn't the case for now.
There are several aspects to optimize website content and the owners must follow them. You will need to brainstorm a little more if you want different web pages to index. Work on creating full potential quality content that is worth crawling and establish rankings for your pages.
Mueller suggested checking your website for overlapping content as much as possible. Once you find that, reduce it to as minimum as possible. A user is never interested in reading the same information twice. They know it once and for all from one page. If there's no additional information to add or no value content, the crawler will ignore the page entirely.
One can use the same page for giving the entire information at a particular location so that the information about all relevant topics is placed together. For example, a small area is a part of a bigger city, one can explain its services in the city because it will certainly cover the smaller area too. Providing the same data for both places separately is quite irrelevant and time-consuming for the crawler to consider indexing.
Overlapping of content can lead to considering your website to have canonical pages. It will affect the rank and indexing. One of the two reasons is because the algorithms might go flappy with the javascript and there's a technical glitch. In most cases, this can be fixed with attention to the technical background of the page. The other reason being duplicate content is built on data analysis that certain URLs have the same content and the ones with duplicacy are not considered to be crawled for.
Hence overlapping of content must be avoided. A relevant URL structure must be created for the crawler to give an idea about the content.
Conclusion
All this sums up to developing quality content. A website with overlapping content has not been worked upon thoroughly and hence has its consequences. To appeal to the user preferences, you must have the information available that can add to their knowledge. Google has always focused on content quality and de-ranked duplicate content. Fortunately, you won't be de-ranked for copying your own content, but there won't be indexing, which anyway affects your rank.
To work through this, GlobalHunt Technologies the best digital marketing company can help you develop valuable content for each web page. Connect with our experts to know more about it. Contact today!