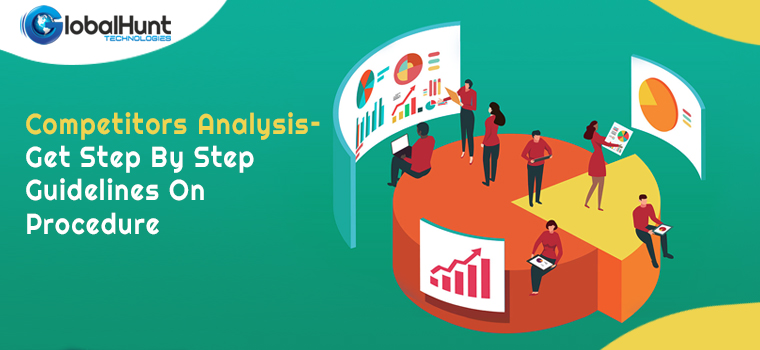 Do you know the mantra of success in today's business world is to know more about your competitors? Yes, that is true. The first business rule says that – know your audience well.  The second business rule is to know more about your competitor's successful marketing strategies. The strategies help you to beat them in a competitive race.
This blog post is structured around the process of how you can conduct a competitor analysis. It also allows you to understand your market so that you can make marketing strategies that move your audience into action. We have illustrated some questions across which this content is structured around. Read the questions that will help you understand how to do competitive analysis.
What is Competitor/Competitive Analysis?
Why It Is Prominent To Do A Competitor Analysis In Marketing?
What is the process Of a Competitor Analysis?
Who Is Your Competitor's Audience?
Let's take all the questions one by one so without further ado, the first question is
What Is a Competitor Analysis?
Competitor analysis is an ideal way to know about your competitors' weaknesses and strengths. And, know in detail about their effective marketing strategies. The analysis will help you to keep your knowledge updated on promotion strategy and also allow you to comprehend your niche.
The definition of simple competitive analysis is
By analyzing what others are doing, you can figure out how to not repeat the mistakes done by them. You can imitate their winning marketing plans, and advance one step ahead of them.
This is a kind of analysis that will likewise assist you with categorizing your business. The analysis will permit you to set a benchmark for yourself in the business to quantify your development.
Why It Is a Necessity To Do A Competitor Analysis In Marketing?
Researching about your competition is equal to feeding your body with good nutrients. It helps you to always remain intact to your business potential goals. You can't think of victorious marketing ideas without appropriate research.  And, it is pivotal to have top-notch quality data as well. Anything else is just useless work and not a winning marketing plan. And, this is where such kind of analysis about your competitors comes to your rescue.
Analyzing your competition can render you motivation, uncover insights, and help you to
Discover gaps in your product offerings.
Discover new niche and business opportunities.
Learn different other marketing channels you had not used.
Figure out what your crowd wants from you.
Comprehend niche conditions for better potential planning.
Recognize seasonal trends that you need to add on.
Avert being knocked out by any indirect competitors.
Be careful about the negative and positive responses to products and services.
The above information will aid you to excel in your niche by having a grip on your competitor's next move. It allows you can plan the antidote that keeps your business rule your market in a long run.
How To Do a Competitor Analysis?
We hope the advantages of analyzing your competition and assessing their procedures are ideally now clear. Now, the next step is, how would we really assemble data and insight?
Discuss with your customers to understand their needs
Do not hesitate to speak with your customer care team
Try to embed information and data that is publicly available
Have a one to one discussion with your sales team
One option is you can also talk to the leaders of your industry
Make use of a competitor analysis tool to save your precious time as in business wasting time means wasting money.
What Is in a Competitor Analysis?
The following guide will walk you through some major steps to do the analysis utilizing Semrush. It also tells you the best way to compose a competitor analysis. Point to be noted: make a spreadsheet page to record the information and data as you are exploring. Make a segment for every competitor or, you can download this free competitor investigation layout in Google Sheets.
Your rival analysis can be separated into three vital phases:
Distinguish your competitors: Direct business rivals are very easy to recognize, and you likely definitely know a few. They are anybody that offers the very services that could pass for your business product/administration. Backhanded rivals are the ones offering services similar to yours and satisfy a similar need, yet an alternate sort.
Investigate your rivals: From all your information, you will have a huge rundown of potential competitors. However, you don't have to do a profound examination on every one of them except if you have limitless assets.
Audit your data: First of all, it's valuable to have a list of your competitors' organizations as it has a huge impact on the analysis procedure. Start by gathering the essential data, for example,
Date organization established
Number of workers
Yearly turnover
Areas, everything being equal,
Number of customers/clients
What Markets Do Your Competitors Operate In?
Knowing the areas for which your rivals are working can reveal potential business sectors that you won't have thought of.
Thinking about your development potential and defining objectives to extend is not wrong. If you have reached a threshold then the best way to extend your reach is to discover new sectors.
Without a statistical surveying instrument, it could require days to find this data. Yet, we can get the entirety of this data in just a few clicks. To find where your competitors are working, see the Geo Distribution tab under the Traffic Analytics Tool.
 Know About Different Result-Driving Marketing Channels
Before using the traffic Analytic tool it is pivotal that you check on the traffic journey. It helps you to know the difference between direct, referral, search, Paid, and social marketing channels.
Visualize the different channels that your business competitor uses to pull in traffic.
Direct: Your competitor is using offline promotion tactics.  Maybe has a strong brand reputation so their consumers already are aware of their brand and land directly on the website.
Referral: Your business competitors are paying heed to banner ads. They are splurging into Digital PR for brand mentions and adding links on other sites. They are also splurging in content posted on other several sites, or investing in cross-promotions with other sites.
Search: Your business rivals are splurging in On-page SEO, keyword strategy, and most importantly link building.
Social: Business competitor is highly active on social media and posts content almost every day to drive-in traffic.
Paid: Your competitor is investing hard-earned money on paid ads like Google Ads/PPC service.
Examine Your Competitors
Since you have understood who all are your business competitors in the market, this stage is the examination. Examining how your rivals pull in their crowd and what their brand's identity is associated with.
Who Is Your Competitor's Audience?
Vital to any business is the crowd.
You can examine your competitors' crowd to search for new people who are interested to learn in detail about your business.
You may have a different brand online position from your competitor. So, don't hesitate to examine those differences that could improve your USP and reinforce your business voice.
Examine the data /Information retrieved
Since you have an abundance of data, it's an ideal opportunity to sort out it. Thus, you don't get a hard time examining it.
You can categorize that information into illustrated groups.
Business or Company
Products and pricing
Target audience
Marketing
Use Mind Mapping Tools to Visually Compare Information
Visual data is a lot simpler to audit than composed content. For the gathered information make a vision board with an instrument like Miro to look at the data initially. Moreover, use keywords and sentences to address more intricate data and supplement charts downloaded from each stage above. Use this in combination with your accounting page to deeply investigate authentic snippets of data.
Thus, it is important to keep tabs on your competitors' activities and know the ways they are drawing traffic on their business page. You have to also set certain benchmarks for your business to reach the heights of success by eliminating all the roadblocks.
So, if you are finding it hard to conduct competitive analysis then reach out to GobalHunt Technologies for expert advice.  We are one of the leading digital marketing agencies in India.  We strive to deliver our customers out-of-box digital marketing services. Need more information? Reach out to us today.