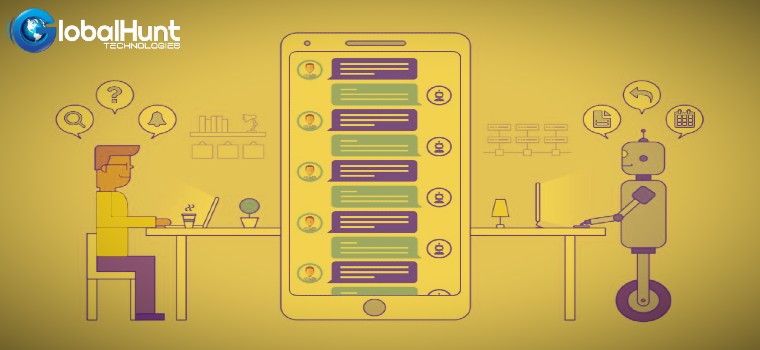 In today's digital era, the role of chatbots in digital marketing is important, it uses artificial intelligence to rethink the manner how they tackle with the target audience. It plays an important role in driving sales, traffic, and other quick customer support service.
With the aid of AI, Chatbots have become stronger and plays an indispensable role in accelerating engagement in Digital Marketing.
This enables organizations to give around-the-clock service, listen to the grievances of the clients, and the customer doesn't have to wait for a longer duration to get a response from the brands. But many people are concerned about their privacy and security with chatbots. But before we understand its impact in the digital age, let's dive deeper into understanding what is it means.
What are Chatbots
Chatbots are considered as a major expansion, or, in other words, this bridges the gap in communicating with the Facebook audience or with your audience/potential clients on a formal level.
It is a game-changer when it comes to reaching your audience or addressing their grievances, and this generates value-based engagement.
Leverage the technology, it is now easy for people to shop, read, and receive information, put their grievances in front, and even buy from one chatbot, and this saves their time and this ease of buying encourages them to buy more in comparison.
The Factors that Affect the Rise of Chatbots 
The burgeoning demand for the chatting application
The acceleration in the profit of Mobile Application industry
The increase in the level of AI and other psychological advances
So, have you started using chatbots to drive conversions? Are you still perplexed about the benefits of using chatbots in your digital marketing strategy?
Enhances User Experience 
Chatbots are leveled up to replicate live visits and communicate with customers.
The chatbots are designed in a way that enables it in answering questions or dispersing details to the customers.
It is designed keeping in mind – the time is money – and therefore, its speedy response rate makes it a big hit.
All the clients with a gamut of grievances look for the best way to seek answers for all their queries.
Garner Data and Research 
It is an impeccable medium to gain data as well as scrutinize customer behavior and keep data on the purchasing behavior of the buyers.
This element can act as a benison for them and enable the brands to decipher the purchasing pattern of the buyers and can use the data for future digital marketing strategies.
Increase Web Traffic
By now, you must be cognizant of the fact that it is a useful tool to increase traffic stream to your website. It enables the annoyed users to put their complaints coherently, and via this medium, a brand can offer comprehensive solutions to their clients and ensure that they provide satisfactory services. And in today's age, any of your agitated clients would want a quick response, and if you fail to provide the same, then the only thing that you will feel will be their anger and can also lead them to ill-fame your brand.
And, it provides the utmost level of comfort to their clients, and to perform any other activity on the website. With the advent of the chatbots, one can witness the evident changes in the way communication is created between a client and a brand. This also allows the chatbot to address a plethora of complaints at a time, which wasn't the case earlier with human representatives, they could at max talk to 3 people at a time.
This boosts great engagement in a shorter time. Also, many chatbots are designed to direct live visits and assist in giving the best customer support online.
The Best Management
Chatbots are considered to have stupendous potential, so this makes it clear that there is no reason to utilize a different site or application for internet marketing.
Apart from that, companies have the benefit of offering a variety of products and services with their messenger on different social media platforms.
This would lead to high-quality leads and more engagement rates apart from providing top-notch user experience.
And the best part is that you don't need to look for bits and pieces as you get the best option.
It is can efficiently handle tasks such as arranging appointments, collecting data, and providing updates to your friends and folks.
This changes the digital landscape, where you can address multiple tasks at a time.
Also, using the automation option can make a world of difference. It is the easiest and the best way to reach a wider audience or address their issues.
The amalgamation of artificial intelligence and digital marketing has popularised the use of chatbots and create a large dependency on it for the businesses. We can provide you the best chatbot for handling your business Facebook page.
So, get in touch with us to experience the difference and for the top-notch services. Our experts will provide you tailored services that will keep you covered.