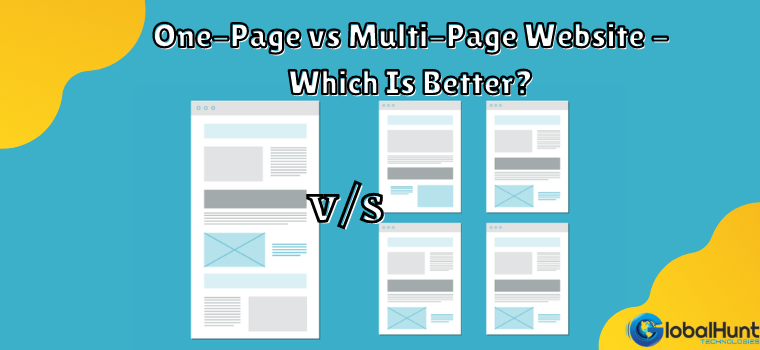 In the era of the digital world, where having an online presence is very important for every business. However, many businesses have to choose between a one-page website and a typical multi-page website for their online presence. "Which is best for my business?" is the question that everyone asked being a business owner.
Is There a Difference Between a Single-Page App and a Multi-Page Website?
In recent years, single-page website design has become increasingly popular. Part of this is because, creating, developing, and maintaining a one-page website is significantly faster than creating and maintaining a multi-page website. Thus single-page websites are far easier to produce than their more sophisticated counterparts.
We believe that many people who are not in the marketing field neglect factors that could influence whether or not a single-page website is suitable. The purpose of this article is to assist everyone involved in a website project in determining a single-page or multi-page platform, which is the best option.
What Is a Single Page Website?
A one/single-page website (also known as a pageless design) uses only one HTML page to display all of the content and functionalities. When using a web application, navigation links take the user directly to the relevant part of the material or functionality. The website usually uses coding languages like JavaScript, jQuery, CSS3, or Ajax to carry out this procedure.
What Are The Benefits Of Using a Single Page Website?
One-page websites have the particular advantage of being able to present content in a basic, easy-to-digest format. It provides designers and developers more leeway in terms of how each component interacts and moves around.
Rapid Reaction
Single-page applications have the advantage of loading faster than multi-page applications. They receive all kinds of reference data, including page structure and layout, directly from the server. When a user looks for information, they will find it.
Simple Troubleshooting
SPAs are commonly designed using React and Vue.js, which are frequently paired with a Chrome-based developer kit. With these tools, debugging is straightforward, and it saves a lot of time when it comes to single-page website maintenance. The results are immediately apparent to the developer.
Caching Possibilities
Single-page websites collect relevant data on the server. Because the data is received in one big chunk, it may all be cached together. While lowering loading times, this strategy encourages user interaction with the source. Only non-cached items specified in tailored requests may be received.
It builds to be utilized on a smartphone or tablet
A single-page design is ideal for all devices. It is straightforward to optimize for mobile due to the small amount of content and the fact that it uses a scroll-down action, which is a natural activity for touch screen devices. Not only that, but mobile backend optimization is also a breeze because it's only one page. There is no need to make any major adjustments.
Disadvantages Of Using Single Page Website
Here are a few reasons why a single-page website might not be the best option for you.
The number of SEO opportunities is restricted
Keyword optimization can be tough on a single-page website because there is less content than on a multi-page website. This may make it more difficult to rank in search engines, resulting in fewer conversions. Furthermore, because you only have one URL to share, viewers will have to search through your entire website to discover the area you shared.
Scalability is a problem
A single-page website might not be the greatest option for a growing company that wants to keep growing. Although there is no limit to how long a single page maybe, people will be less likely to browse around your site if it contains thousands of words.
What Is a Website With Multiple Pages?
Consumers had to work with multi-page apps before single-page webpages were developed. HTML and other frameworks are used to create them. Today, many existing websites are MPAs. When accessing such a web page, the server receives a significant number of requests in a short amount of time. A new page may emerge once you click a link. As a result, each page must be individually inserted.
Excellent Benefits Of Using Multiple Page Website
Multi-page sites are ideal for more complicated web projects that require more material or features. Trying to squeeze too much stuff onto a single-page website is bad for a user's overall experience since it makes it difficult for them to find and interact with the content they came to the site for.
The possibilities for scalability are endless.
A multi-page site is a terrific alternative for a growing firm that wants to continue expanding its number of pages. You have complete creative control over how many pages you generate. Your server's storage capacity and your hosting subscription are the sole constraints.
You're Used to a Certain Type of User Experience.
People are more familiar with multi-page websites since they have existed since the advent of the internet. Users are more likely to know how to navigate through the navigation menus if your website is systematic and aesthetically pleasing.
Increased SEO potential
If you have more material on your site, you can target more keywords on each page. Though the full potential of your SEO is based on your marketing activities, having more content to work with is a major step forward.
Major Drawbacks of a Multi-Page Website
Multi-page websites appear to have worked for many business persons, but there are a few drawbacks to consider.
Guests are more likely to be perplexed.
On a multi-page site, visitors are more likely to become distracted than on a single-page site. This is because your site has become more content-heavy and is taking longer to load. There is a higher bounce rate as compared to a single-page site. The solution is to ensure that the website is well-designed.
Mobile optimization is more complex
A multi-page site, unlike a single-page design with a single back-end code, needs you to start over with the mobile version. This takes longer and costs more money. Fortunately, if you use a good CMS or website builder, they'll usually construct a mobile version for you while you're working on the desktop one. All you have to do to be optimal is tweak it a little bit yourself.
Requirement of Extra maintenance 
The more content you have, the more time and effort it will take to keep it current and optimized. If your content is outdated and under-optimized, your SEO and search engine rating will suffer. Fortunately, there are some tools available to help you monitor and maintain your website.
What is the ideal solution for a single-page vs. multi-page website design?
We hope our explanation of the distinctions between single-page and multi-page design was helpful. To summarise, a single-page design works well when you have a restricted focus or want to encourage users to complete a certain goal. It's also perfect for creating mobile-first designs. 
Multi-page design, on the other hand, allows you to expand your reach, cling to standard navigation techniques, and improve your SEO approach. If you are looking for web development services that can help you in choosing the right type of website then without any hesitation just connect with GlobalHunt Technologies. There is no rule of thumb for deciding whether to construct a single-page or multi-page website. The most crucial thing to remember is to prioritize your material. 
Consider what information you need to provide to your consumers and how you can make it as easy as possible for them to acquire it. If you're still unsure, let your users make the decision!