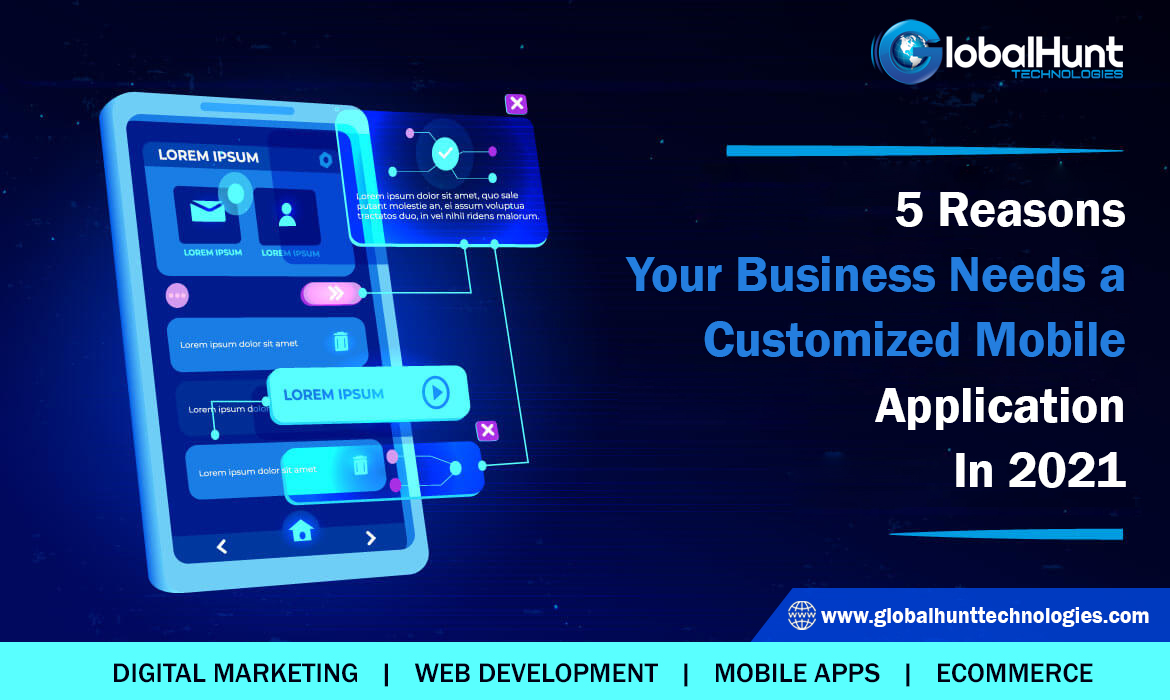 People can't take their eyes off of their smartphones in their daily lives. Whether you own an Apple or Android smartphone, in between tasks, one can't help but open that mobile application.
This is a great chance for business owners to leverage this action of users. The services, goods, and customer care of a corporation have never been easier to reach because of the ubiquity of mobile devices. But you're losing out on potential advantages if you don't have a mobile application for your company. Make sure you choose the best Best Mobile Apps Development Company in India and skyrocket the business of the company.
Advantages of creating a mobile application for your company
If you're on the fence about creating an app for your clients, remember that the conversions made on your mobile app might lift your company to the next level, although it will involve an upfront expense.
This is a new channel in which you can boost the profits of the company. Depending on how big the audience is it can be quite an important boost.
. You can contact all the users who have installed your software directly. For instance, with the aid of offline geolocation technology, a business may submit a special offer to clients who are in close proximity to their store or office.
Enhanced visibility for your business through a mobile application
With the spike in the sales of mobiles, people search for information via this device. This increases the chances of searching for a product or getting familiarized with your website via a phone, and if you do not have an application, then you would lose major profits which is not a prudent call for your business.
No matter where you are in the world, you may build relationships with your clients. Since the app is already installed on their computer, a person does not need to remember your web address or link to a search engine, as in the case of a blog. One can also use it without access to the Internet, depending on the features.
Your information space is entered by each new user who downloads your mobile app. It is also worth using different approaches to increase the number of installations; in exchange, for example, you can offer incentives and discounts.
The combination of "site + mobile application" yields the company a double dividend. Thanks to search engines, the company's Internet tools draw the interest of consumers, and when a visitor joins the mobile program via the web, the company turns to more targeted work with him.
A mobile app converts in a way your website doesn't, by minimizing friction for your clients. Not only that, with push alerts and proven UX marketing, a Mobile app opens up fresh marketing opportunities. Combine these tactics with the customer data you gather and you can iterate even more to improve those conversions.
Marketing and communication channels
Via different marketing strategies, mobile apps can be effectively used to draw attention to the brand. In this way, you extend the potential consumer base and build trustworthy relationships with them.
The truth is that it's always an advertising move to launch your own app, as it allows you to use other marketing resources. You may publish news on related tools, for instance, or send out press releases.
The prospect of receiving input from users is especially important in this context. You can run polls, perform surveys, encourage users to report mistakes, and so on for example.
You get regular data about their actions when a user pokes around on your app. As a consequence, you can figure out what works and what isn't, and at what point you lose the interest of the user. You can create a better experience for your clients and get real-time feedback on your changes by analyzing data and testing new options.
The company is given a powerful tool to increase loyalty by enabling customers to book a table, order food, or pay for their order using the app on their smartphone. Integrate loyalty programs into the mobile application and share with customers useful promotions, discounts, or bonuses.
A source of useful analytics
You can gather a lot of useful data for further analysis through the use of a mobile app. You can learn, for example, which products your clients buy the most. And how much time they spend on the app, as well. Or even, which are the most used functions and which are the least popular?
Not all businesses take full advantage of their own sites' potential, let alone their mobile apps. Some businesses do not even have them, because they consider them unnecessary for some reason! Competition is still low in this region, and this should certainly be taken advantage of.
You will comfortably improve your role in the future if you manage to be among the first to start using mobile apps as a marketing and sales tool.
The Bottom Line
Your customers will have new ways to access your products and services, contact your team, and get to know your brand if you develop an app for your business. You'll get lifetime loyalty if you've built something beautiful that eliminates pain points for your client. Building something unique requires a team of experts, and this is the core reason that you need to look for the right Mobile Application Development Services.