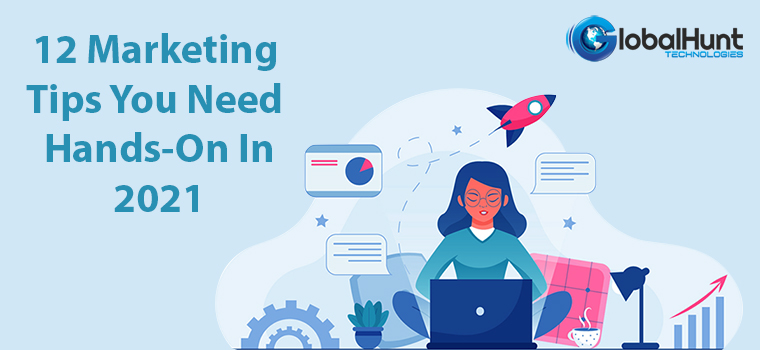 Marketing in 2021 is not a plumcake, it will take work, starting with the objective you are trying to achieve. Following several procedures would only make sense when an end-user, reader, or audience finds it interesting to read your content. Once you are clear about what you will deliver to your audience, here's what you must do next to market yourself this year.
Regular Content Promotion
Apart from creating content, you must get it on platforms where it is accessible to your audience. Also, if you call upon people to like your page, follow the content, etc. They must have something to read about it. Promotion is an arguably crucial part, where you must decide on a relevant marketing platform where you will be posting your content.
Give your audience to read something, to add to their knowledge, and even better something that adds value. Your presence will be much appreciated when you are adding value to people's life.
Refreshing Your Content Regularly
Refreshing your content is a major part of growing online. A blog post or article loses its identity when not refreshed. You would experience a thorough decline in your organic traffic if you keep things static. If you want to reclaim your position on the search engines, pay attention to refreshing the content on your page. The more consistent you are with refreshing your page, the more likely you are to reach traffic. This is one of the most important strategies that all bloggers are following to grow online.
Expand Your Content Delivery And Type
A lot of times brand recognition is curbed when people fix or restrict their content to one single type. Depending on the article you choose to prepare your content, you can publish it in different formats such as texts and videos. With time, people have become more comfortable with video content and that is where vlogging came in. So you can try writing your insights, sharing valuable content via video, and even promoting it in minimal words on Twitter. It improves your SERP, consequently, the probability of connectivity improves.
Ranking Organically For Significant Keywords
SEO directly deals with keywords for ranking on Google. A majority of businesses are trying the same. For your keywords to perform better, you need to know what is your audience searching for. Move along the path of traffic potential, use tools like Ahref's to explore keywords and where is the traffic going.
Along with keywords work on topics that help audiences connect to your business. Develop your business potential by speaking about how your product has an irreplaceable marketing positioning in the industry. There could be readers who would have a little different requirement. To these people you can explain how your product can be somewhat helpful. You must market such content that has the potential to bring back profit and you can only earn it when you tell explain end-user benefits to your audience.
Work On Publishing Optimized Content For Google Discover
Google Discover is new, but with a wide scope to run when the feed generates content based on interests. For optimized content on this platform, you need to research through the trending topics and get your notes down on them. Brainstorm how you can connect the trending topics to your business. Additionally, you must have a mobile-friendly website where people are most likely to search about it. High-quality images will add to readability along with meta tags that align your content.
Generate content that helps you gain market authority. Trust matters the most in virtual businesses.
Craft Your Snippets To Rank 1
Featured snippets help in getting more backlinks. Any and every business has this main target to achieve as many backlinks as possible and features snippets are a doorway to that. It can even be called a shortcut to improve your rank. The only thing that you must work on is that your content is suitable to be featured as a snippet. Look for keywords that trigger the requirement and use them to optimize your content appropriately.
Implement Middleman Method As A Catalyst To Your Money Pages
Building backlinks to your money pages has been the most difficult task of all time. However, there is a simple way out with the middlemen method that works as a catalyst. This can be one of the best techniques for link building. Create relevant linkbait, and with help of internal links let traffic redirect to the money pages. For this, you need to create engaging content that is relevant to your business and evokes clients to connect with you.
Authority Building With Newsjacking
Earlier, people only used to work on the latest topics, but now it is predominantly important to find content that is also relevant to your business. You must remain adept with the happenings in your business. Once you can monitor the news relevant to your business, you can pitch your contribution to it. This contribution can bring amazing results when done right.
Boost Your Ranking With Internal Links
When you move from one page to another in a single domain, it is called internal linking. Often, the technique is missed out and surprisingly it can help with attaining a higher rank for two reasons:
With internal linking, you can get authority for your page as Google observes your page for internal and external backlinks.
Internal links help Google build a relevant picture about your industry, website, and topic. Once Google knows you, it is easier to get that grip on search engines. You can help Google crawlers realize these links by regularly updating them. Crawlers do not pay attention to static pages but the ones refreshed regularly. There has to be something new Google should notice you for.
Consider Guest Posting As A Tool To Rank
If there's one thing on the internet that you need to attain it is gaining authority. This could be via your own content or blog posts written by guests. It gives you a good chance to build referral traffic with content that focuses on challenging keywords. However, you need to be very picky about who you work with. The objective remaining about gaining authority, you must even grab the opportunities of working with keywords that do not have many competitors to the big ones. You might not own a guest post, but since it's on your website, relevant traffic would take an interest. Therefore, guest posts are the most effective marketing technique which is mostly about topics that relate to your business.
Promote Advertisements On Channels Other Than Popular Ones
At times, the popular social platforms are gathered up with too much information. One query and thousands of results can be a difficult area to deal with. Customers want to reach a place where choosing an option is reliable and quick. Hence, you must post advertisements on platforms other than Google or Facebook. A huge number of the audience still looks for solutions on platforms that are simple to access and understand. Also, it would be cheaper to promote your business on such marketing sites. Thus, you are earning clients and simultaneously saving your money.
Email Campaigns Set Forth At Regular Intervals
Emails are a great source of help for businesses. A lot of people who think emails are now outdated miss out on marketing opportunities. Great businessmen are utilizing this method to remain in contact with their clients. It is all about offering value to your customer. Especially, when they take an action, such as sign up on your website or subscribe to your newsletter, they want to hear from you. To offer value-giving content regularly, you can opt for drip campaigns. When a user signs up to your website, you can send them an informative email at regular intervals. In fact, the drip campaign follows this strategy in an automatic manner, which is very helpful in increasing customer value.
Conclusion
The above-mentioned tactics are all about getting the maximum traffic to your website and in turn, they purchase your service/product. There are several marketing tips out there revolving around product promotion where business owners try to meet the end user's need. There must be synchronicity between product, place, price, and promotion. If you are trying to promote a product with a low value it can drop down your business to a steep decline. To grow exponentially you need to focus on the above-mentioned points and build a strategy that resonates with your business as well as the audience.