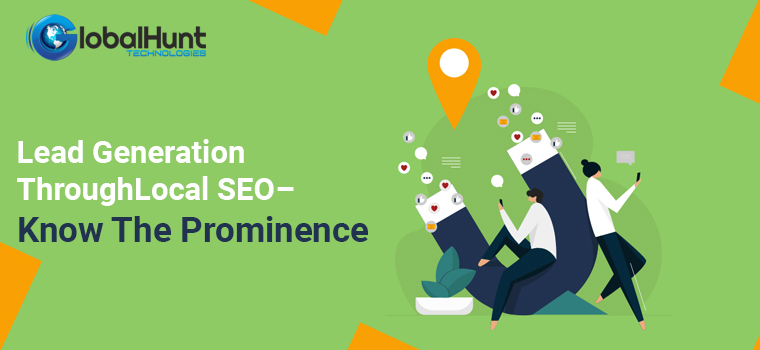 Do you run a local business? To make your business stand out from the crowd, you need a great local SEO marketing strategy. Why? Because local search is how local customers find businesses like yours on Google.
Local search is incredibly important to Google, as it wants to boost its search results by providing more accurate listings. Mobile devices account for 50% of all Google searches, of which 30% refer to local businesses.
Still, local businesses fail to maximize their visibility in local search results by utilizing location-specific marketing. You can change the odds in your favor with targeted local SEO tactics. Most business owners are interested in increasing website SEO to make their brands more visible so they can increase their sales figures. The overlap between SEO and lead generation is what makes them seem confusing at times.
In this blog post, we will provide you with more information about how local SEO can generate leads. To begin with, the topic, let's compare and contrast SEO and lead generation. 
What Is Search Engine Optimization?
Optimizing your website to appear higher in search engine results is search engine optimization (SEO). The keywords you want to target must be closely associated with your business for your site to appear.
Statics says that over 30% of Google users click the first organic result. Over 50% of all clicks go to the first three results, while more than 70 % go to the first five results. Thus, it is essential to rank among the top five organic results for targeted keywords. However, that is a herculean task. Search results that were organically displayed did not come from paid advertisements, but rather from the search algorithm. Organic results are displayed below the sponsored results (Paid ads). 
What Is Lead Generation?
Leads are individuals who indicate interest in a company's product or service in some way or form. Lead generation entails attracting prospects that can later be converted to customers. Businesses use different tactics to generate leads when it comes to digital marketing. You can write blogs, create landing pages, email marketing, run paid ads, and promote your social media presence.
Lead generation is a way to put your brand in front of people who might be interested in buying your products or services. Prospects are in need of something so they scour the internet. To effectively market your products, you need to get their attention and prove your products are right for them. Getting them interested in your brand is the first step toward attracting their attention.
What's the difference between SEO and lead generation?
SEO and lead generation complement each other, but they are not the same thing. One way to generate leads is through search engine optimization. You can also generate leads offline if you don't use SEO.
However, search engine optimization must form an integral part of any lead generation strategy if you want to see the best results. You will uncover excellent keyword opportunities by carefully planning SEO traffic generation. Develop content that provides value to those customers by targeting them. By doing that, you'll be in a better position to crack the deal.
Optimum SEO Strategy – Generate quality Leads
Indeed paid ads also target potential customers directly, but they usually create more resistance. For years to come SEO will keep driving traffic to your site and garner quality leads, outpacing your initial investment.
An excellent way to increase exposure is to find keyword opportunities
A tire dealer, for example, might write an article on choosing snow tires and chains. These articles are read by people who are ready to buy that business product. It is extremely valuable to have Google send these kinds of leads directly to your website. It is much easier to convert prospects who are already planning to purchase into new customers with these types of warm leads.
What is the major difference between SEO and Local SEO?
In a regular SEO campaign, your website should appear high up in the search results for that particular language, globally or at least nationally. Your website is likely to rank first for the desired keyword, which is one of the obvious benefits. This is an advantage for businesses that sell their products or services internationally.
In traditional SEO, you will also face competition worldwide. Your goal is the same: top Google ranking for competitive keywords on the first page.
Local SEO – Eliminates unnecessary competition
It is possible for some businesses to get exposure around the world through global SEO, but not always. If you are a local tire dealer operating in Ontario, it is meaningless to try to attract international traffic. 
Things can go worse if you compete with tire dealers and companies from all over the globe. And if you attempt to rank for keywords such as "one of the best tires" then, you are destined to fail. As a local business, you should be ranking for local search results instead of trying to rank for a keyword like that. Why? If you don't do that your customers won't be able to find you. Global competition will dig your website too deep. Investing in local SEO, you compete online only with real competitors selling the same product as you.
Local search engine optimization is of paramount importance
Local SEO benefits include:
Limit competition: For the top spot on Google, you will only have local competition.  Local SEO makes it much easier for a business to appear on the first page of Google search results.
Create a community of loyal customers: We can't stress enough that local SEO is most likely to draw local customers. Therefore, as a local business owner, you have an opportunity to shine in front of your neighbors. With a quality product that matches your SEO efforts, a customer may become a life-long customer. You will have the customer return to shop again if they are satisfied. Furthermore, they will likely recommend your business to friends and family, increasing your customer base.
Improve your lead generation: Leads generated by local SEO are typically much more likely to buy than those generated by traditional SEO. People who search for a hair salon on a specific street or district want to know that they will get a hair-do within a week if not that day.
How does Local SEO improve lead generation?
Local SEO gives you results relevant to your area. Local businesses need it to thrive.
For an effective local SEO campaign, follow these local SEO tips:
Set up a Google My Business (GMB) profile
The Google My Business page is a free way to let Google know more about your business. When you create a GMB profile for your store, you ensure to Google that your store has accurate information. In this way, you can avoid providing any insignificant information.
Make your website localized
Make sure that your website contains accurate and easy-to-access information about your name, address, and phone (NAP). A great first step to attracting local customers to your site is to display your working hours, maps, and other information relevant to them.
Creating top-notch content
You can grow your brand's reputation by creating quality content that highlights your location. It is a great way to become a local authority and one of the best SEO lead generation strategies to answer common questions locals ask of your products.
You can get in front of new customers by listing your store in online business directories. Google can also learn about your business through this. Businesses directories such as Yelp and TripAdvisor are examples. Owning a restaurant means you want the name of your business to appear on these websites. Positive reviews would also be helpful there.
Final thoughts
We hope through this informative content, you now have an idea of how local SEO can serve your business better. An SEO campaign is one of the best lead generation tactics; it floods your website with quality leads. Local SEO improves adds more stars to your business image and helps in popularizing your business within your community. A professional search engine optimization company will make sure that your business appears on the first page of local Google search results.  And secure that position on SERPs', which is a cumbersome task. If you choose the right local SEO strategy, you will maintain your position and experience a big return on investment. Local SEO will lead to more quality leads and better conversion rates, sooner than you have imagined.
If you are searching online for the best local SEO Company that can help you garner quality leads then GlobalHunt Technologies – a reliable internet marketing agency is worth considering for Local SEO. Get in touch with us, we promise to provide you bespoke Local SEO package that meets your business's digital marketing needs.