Want to top the video rank on YouTube and unsure of what to do next?
Here, you'll learn how to increase the visibility of your YouTube videos in search results on YouTube.
Why Customers Can Find Your Small Business Using YouTube Video?
When people search the internet for information, they do so using Google search, which is owned by Google itself. Every time someone types in "how to fix a dent in my car" into Google, their search results are determined by several factors, including location, media, and advertising as well as SEO.
As a result of this, you can create YouTube videos that address the issues your customers face and are paired with the right keyword terms.
Learn how to create YouTube videos that will increase your business' visibility in search results by following the steps below.
Answer frequently asked questions with video
FAQs from customers and prospects usually have something to do with why they came to you in the first place. Your YouTube videos can be based on these questions.
In their YouTube videos, a lot of people offer tips and strategies to people looking to buy or sell their products or services. People had only marginal success before they started using YouTube to generate leads. But soon, YouTube videos were highly ranked when they had relevant content, and business owners eventually stepped up their YouTube marketing efforts. As a result, many business people now get the majority of leads from their YouTube channel.
To begin, you can answer frequently asked questions, such as what a first-time buyer should know, how your product is a smart choice and the pros and cons of using something other than yours.
Produce videos that will help you rank for frequently searched keywords related to your business.
Write down your top 10 FAQs and make videos about each of them to generate ideas for your YouTube content. This is a great way to establish yourself on YouTube if you're just starting out.
Make the most of these videos by putting them on your FAQ page or sending them to new customers via email.
To find information, a search engine uses keywords to identify the topic. The keyword "how to fix a dent in my car" is an example. In addition to "fix a dent in my car," other related keywords include "how to fix a dent" and "fix a dent."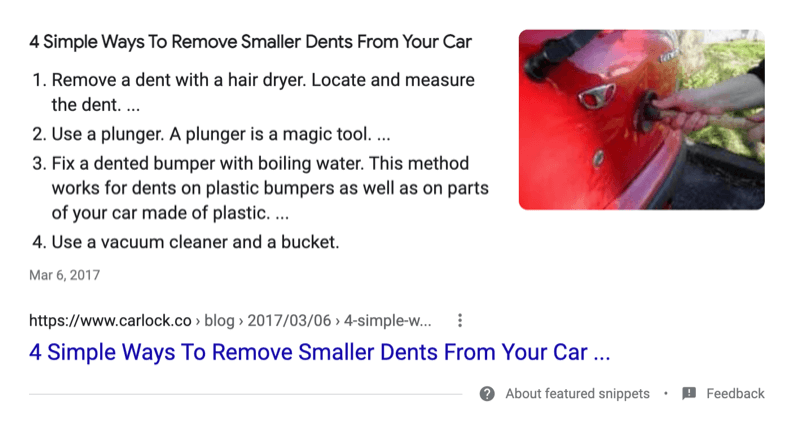 Your target audience's search terms and phrases must be identified before you can create a YouTube video that ranks well on Google. Among them are the following:
Keywords or single words
A collection of words
Suggestive phrases
Questions
Zip code or city.
Your first step should be to do a Google search on what your company does. Use the phrase "fix a car" as an example. There are several textual as well as video content pieces available on the first page itself.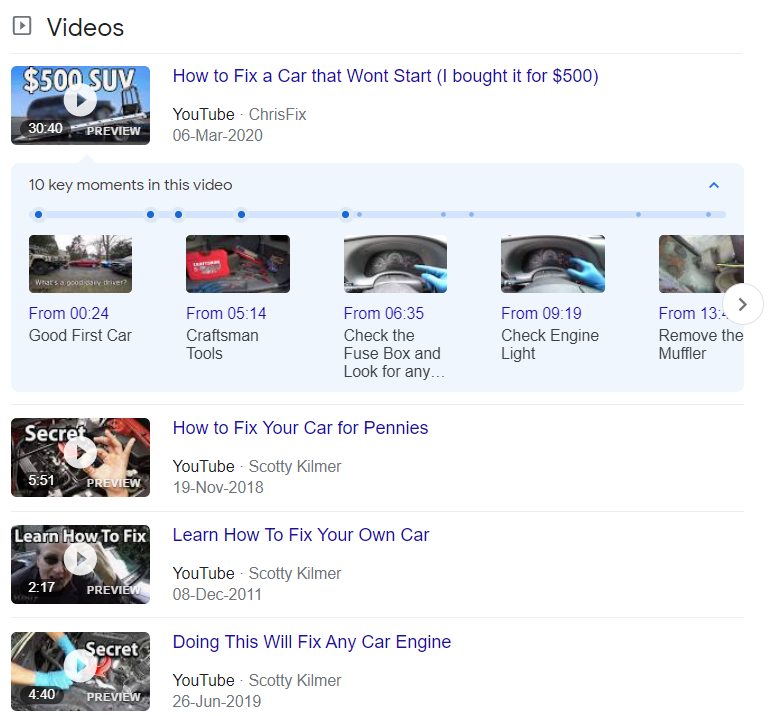 This kind of research requires that you pay attention to a few key points: Use "people also ask" as a starting point to identify relevant keywords and videos to create. In order to answer these questions, or at the very least to solve these problems, create a video.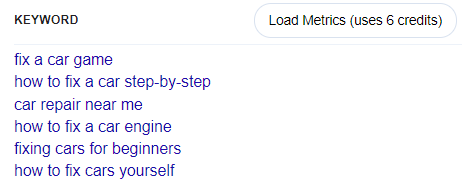 There are more videos than articles on the Google search page (SERP). This means that creating videos about the same topic as a competitor's blog post can increase the topic's visibility in search results.
Please keep in mind that everything we're discussing has to do with solving problems for your potential customers. Create a video that solves the problems of your customers and establishes you as an expert, which will hopefully lead to them doing business with you in the future.
Examine keywords with the help of Keywords Everywhere
How do you know if a keyword is the right one once you've selected it? What about oversaturation? Is it related to what you're trying to achieve? What are the search terms that people use to find this? Can you think of anything you could do to improve this keyword's performance?
What can Keywords Everywhere do? Google Chrome extension that provides additional information about the search terms you'd like to use in your search results A free and a paid version are both available (around $10/year).
Do a Google search for your keyword after installing the extension in Chrome. It will appear on the right side of your search results page (SERP) under the Keywords Everywhere section.
You'll also see a list of keywords that are similar. As a result, you may want to use some of these keywords as inspiration for your tags on YouTube.
In addition, Keywords Everywhere will display popular search terms, which can help you narrow your search. These keywords could be used as inspiration for future video productions in the future.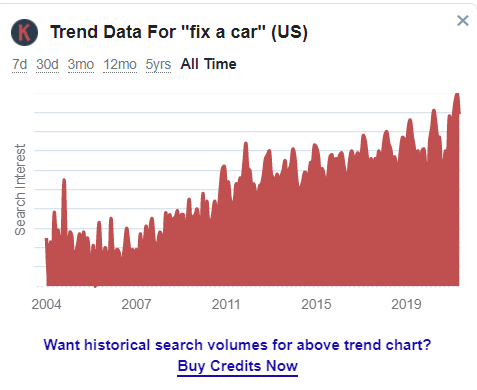 For example, it can be used to determine whether a certain wording makes sense based on the association.
They can help you narrow down who you want to do business with. People with different problems in their car might come to your repair shop if "fix a car" is your keyword. You can get specific with brand names or problems such as Fix Your Rolls Royce etc.
Title your videos in a way that evokes a personal response from viewers
YouTube content is built on keywords, but your video titles also play a key role in your success. They must be compelling enough to get people to click on them.
Consider the following example: Finding Hope to Live in COVID Times. This title can entice the explorers to look forth the information and you can get more views. Also, subscribers will tend to follow you when they are able to find some inspiration from you. You can skim through these content pieces on the internet and come up with something that is related to the audience. There are several topics you can pick up relevant to COVID information and prepare informational content on it. Make it interesting and give your audience some value.
Add Call To Action For Viewers To Know How To Respond To Your Content
It's important for you to create a call-to-action that viewers will respond to as a business owner, and YouTube is no different.
It is believed that people that introduce a call to action have higher conversions than the ones who do not suggest to their audiences what steps to take after seeing the video content.
If you're creating content to solve a problem, your CTA should be an extension of that content. Use checklists to help viewers with their insurance needs if, for example, your business sells auto insurance. Viewers can sign up for this in exchange for their email.
Follow this formula to add a call to action to your YouTube video:
To begin, identify the problem and then reinforce it with specific examples.
How do you want to be perceived by your target audience?
Describe how your video will benefit the viewer
What you need to know before investing your money in XYZ will be explained in detail in this video.
Explain what you do to help people. Don't ramble on and on; be specific.
"Hi! This is John, I assist first-time buyers in finding the perfect product to meet their needs.
Include a call-to-action in your opt-in.
As a first step, grab my guide in the description below. It will help you learn about all that PV has to offer and get resources for your move.
YouTube Video: How to Amplify and Repurpose it
Consider repurposing your YouTube videos for other platforms to reach even more customers and prospects after you've put in the time and effort to create videos that will appeal to your target audience.
Write a blog post based on the video and embed the video in it, for instance, this has two main advantages. People who prefer reading over watching a video can be reached. Two, a blog with an embedded video will always rank higher than one without one.
Your video can utilize in a variety of ways:
Create Micro-content from the video and share it on the web via social media.
Post it natively to Facebook, IGTV, and LinkedIn, as well as other social networks.
Use your email list to spread the word about the video.
Incorporate quotes or statements from the video into your graphics.
Final Word
In addition, it is unlikely that any of your direct competitors are also using YouTube to generate leads for their business. The right videos can open up a lot of doors and opportunities for your business or career. To succeed, all you need to do is show up, be yourself, and solve the problems of your customers—and don't forget that call to action! Always add value to your content, give your audience something to remember, hence plan before creating a video, and schedule time for posting it. 
This explains how you can increase your reach on YouTube. If you still face problems or want to get professional assistance on the same, contact us GlobalHunt Technologies Today!