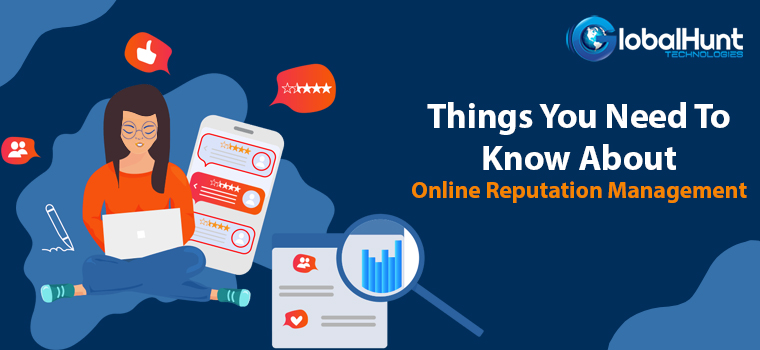 In today's competitive digital landscape, Online Reputation Management manages your brand's online presence. There is no doubt that the company with a good online reputation is trusted more, why?  People trust brand recommendations from word-of-mouth, friends, and online reviews. According to the digital market survey that we have conducted we realize that effective online reputation marketing has a direct impact on business sales. A brand with a positive image dominates its presence on Google's first page.
The company's online goodwill is highly affected by one negative comment or negative online review. This is the reason entrepreneurs hire a digital marketing agency to eliminate the negative reviews completely or push them down and below the search engine results. After reading your company's positive reviews, people will get convinced to do business with you. Good online reviews build-up people's trust and allow them to contact you for a business deal.  A well-managed online reputation of any business highlights its strength. The reputational goodwill of any business increases its visibility online.
The next section of the blog post deciphers some crucial techniques and copper-bottomed strategies, that businesses owner or digital marketers can use to manage and monitor the business online presence and get the best result by deploying these winning online reputation management strategies.
What is online reputation management?
Before we jump into the benefits of the ORM services it is important for the reader to know what exactly the ORM is. Online Reputation Management not only influences the business online presence but also affects the SERPs results via SEO and public reviews, which aids in improving the online sentiment of the company.
The benefits of the Online Reputation Management service are as follows:
Increase trust: People trust a brand with a good online reputation.
Return on investment: The brand or company with a five-star rating gets more business.
Digital marketing: Promote awareness of your brand, product, publication, etc.
Bright future: Businesses having positive reviews have a bright future.
How online reputation management works?
 Administration like GlobalHunt Technologies makes use of a quality combination of the advanced SEO principles and public relation tactic to create good online reviews and stack it onto the first page of your business search results. It may comprise of the following key factors:
Making and streamlining the websites
Creating high-quality links
With the leading articles
Through social media platform
Customer online review management
Good quality content production
These winning strategies force the negative or bad reviews to get off the business page and protect the business search profile against potential mishaps.
ORM vs. SEO vs. PR
It is very simple for the layperson to get bewildered by these services because they are kind of similar and are unraveled with one another. For example, the online reputation management service provider makes use of the Press release to earn a fortune just like public relation organization does. Still, the experts foster search engine optimization techniques to drive positive reviews higher on search engine results, exactly in a similar manner to an SEO agency.
However, there are some remarkable variations in every service and their aim to accomplish
SEO: It helps the website to rank high on the search engine with multiple keywords.
Public Relation: It leverages public views about the brand.
 Online Reputation Management: It influences public perception by placing multiple websites on the top of the search engine on the first page.
So, with the definition, it is clear that ORM, PR, SEO are digital sibling services of one another and incomplete without each other.
Why is it prominent to manage and monitor your business's online reputation?
Regardless of what your identity is—whether you're the CEO of a big brand, an accounts administration official, a government official, or a local entrepreneur—your online image is your most significant resource. Surprisingly, regardless of whether your business search results mirror this present reality or not, they definitely characterize your online reputation.
Following are just a few instances in which a good reputation is pivotal:
Launching an IPO for the business
Securing financing for a new business project
Enticing new customer
Creating a well-planned business partnership
Running for open office
And much more
First impressions should be long lasting
At whatever point we need relevant information or counsel, we at last end up on Google. It is because Google is a trustworthy search engine and has made its users swept off their feet, similarly, the first impression of your business should be long-lasting so that your audience perception vis-à-vis to your business is positive and compel them to happily do business deals with you.
However, if the potential clients find a single negative online review. Bad content about your business online then they will be not interested to do business deals with you. This is the reason why ORM services are in high demand.
 Top Online Reputation Management Issues Are Enumerated Below, Have A Quick Look
There are a plethora of reasons why website owners contact GlobalHunt Technologies – a leading Online Reputation Management service provider in India. But few important ORM issues are highlighted in this blog post and they are:
Bad reviews
Negative or bad customer reviews on Yelp, Google, Facebook, and obviously Ripoff Report cost organizations more than several billions of dollars every year. That is on the grounds that buyers overwhelmingly trust online survey sites to find out about the business goodwill and credibility before they make a buy.
What's more terrible, most buyers can't differentiate between real negative criticisms and forge one-star testimony. Be that as it may, don't react absurdly. An online reputation management organization can assist you with a review audit your business doesn't have to suffer.
Adverse Competitor Comparisons
It is without any iota of doubt true that buyers do a lot of meticulous searches online before making any purchase decision. Adding fuel to the fire, your business correlation articles foster their final decision. Unfortunately, several item comparison websites are actually are real partners with one of the items they measure. Much more dreadful, a large number of those sites are owned by the same parent organization.
Negative press release
Negative PR, articles are a few big internet reputation issues for businesses around the globe. Bad news articles slay a company's reputation like anything; it takes the firm's reputation by storm. It affects the hiring process, the company's revenue, and employee retention as well as financial funding. As a result, the business loses its loyal clientele; your competition will jibe on you that influences your business profit margin as reading bad articles about your company will put clients in a dilemma and they won't buy from you.
Attack your goodwill
Online slander is one of the most exceedingly awful issues you may have. It is tragic when a negative substance spills out unintentionally, yet nothing is more terrible than non-legit, derogatory assaults.
Regardless of whether the source is a negative Glassdoor comment composed by an unsatisfied previous representative or a devious contender, you should retaliate. In any case, be cautioned: these circumstances are amazingly fragile.
Associations Uncertainty
Not all organizations have brand names. In the event that your image name is additionally a typical word, at that point, you could be kept separate from your own marked pursuit completely. That doesn't simply obstruct your advanced advertising endeavors; it additionally circumvents potential clients finding your site
 Identity dilemma
You may have positive online goodwill, be that as it may, other people who share your name probably won't be so cautious. Unfortunately, an internet identity dilemma could cause another person's online networking accounts, inapt photographs, and mug shots to show up in your search results. While you may realize which online results are yours, others probably won't have the alternatives to arrange them.
 Improper public database
A few of our customers are worldwide business pioneers and humanitarians who've assisted a lot to change the world. However, their online search results didn't precisely mirror their achievements. What's more, at times, Wikipedia pages, Knowledge Graph, Google results, and other open profiles were incorrect or inaccurate. We can rest assured and guarantee that, with us, your online goodwill is both positive and precise.
Powerful online reputation management strategies
In the next section of this blog post, you will get cognizant of some prolific and worthwhile online reputation management strategies. It will help your business to maintain its market goodwill. Yet, to implement it is no child's play, it takes a lot of effort and time to bring your company's goodwill back on track so you need not supposed to panic. We assign multiple tasks to the SEO analyst, ORM expert, and content writer to help in showing up your company's positive reviews by eliminating the negative ones. With it, let's dive into the powerful ORM strategies that we deploy.
Internet reputation monitoring
It is simple and much easy to subside and push down the negative search reviews. If you are able to find it on time before someone else notices it. Surprisingly, Google and other search engine is the best online platform to monitor the star ratings for the businesses across the world. The primary step is to search about your brand and visualizes what comes up. Use the proficient skills to check out the recent post about your brand, because if you are not doing it in the right way maybe you miss something very important that can adversely affect your brand online image. The second step is to log on for the SERPs alert, to get the notification if someone searches about your brand and has posted something about your brand online.
Create your social media realm
Social media internet platforms are an amazing resource for your image's online image. Guarantee and utilize your web-based social networking accounts, and routinely react to client criticism. While you don't have to present all that you do on the entirety of your records, you should keep up your business's social media existence.
It's likewise critical to let your supporters and web search tools realize that your properties are legitimate. To construct legitimacy, set up profiles with pictures, logos, and business data. You ought to likewise incorporate your business email and telephone number if material.
Develop your business online presence
Guarantee your online properties and spaces. Most organizations have websites nowadays, yet numerous administrators don't. Additionally, numerous organizations don't have a blog (either on their business site or somewhere else). Marked areas are a significant cornerstone in your online presence in the executive's system since they're a lot simpler to rank at the highest point of your SERP search engine.
Procure positive comments and brand specifications
Great audits and brand specifications are the establishments of all great online goodwill systems. Truth be told, there's nothing of the sort as an excess of good press. So if your client support is incredible, and you as of now get positive reviews from satisfied clients, at that point approach them for Google reviews and comments!
Also, an extraordinary method to broom up your online image is to have a constructive outcome inside your locale. Go well beyond to bolster veterans, a tribute to the destitute shelter, or be a natural support steward. Not certain where to begin? Look at the corporate social guides to get a few thoughts.
Use SEO and reputation management procedures to cover awful substance
As we simply secured, the most logical option to expel negative articles and substance from your search result lists is to push their path down.
React to negative remarks rapidly and expertly
I'll concede, it's difficult to follow and remain intact to this standard. At the point when somebody assaults you or your organization, the exact opposite thing you need to be is affable. However, in the event that you lose your temper, you'll make things a lot harder for an online reputation management agency to fix.
Differentiate your inquiry scene
Does your internet search result contain a picture or any recordings? Those highlights take up significant land in your inquiry scene which implies there's less space for a negative substance to sneak in.
So, to improve your business online reputation, get the help of ORM agency and GlobalHunt Technologies is your one-stop destination.