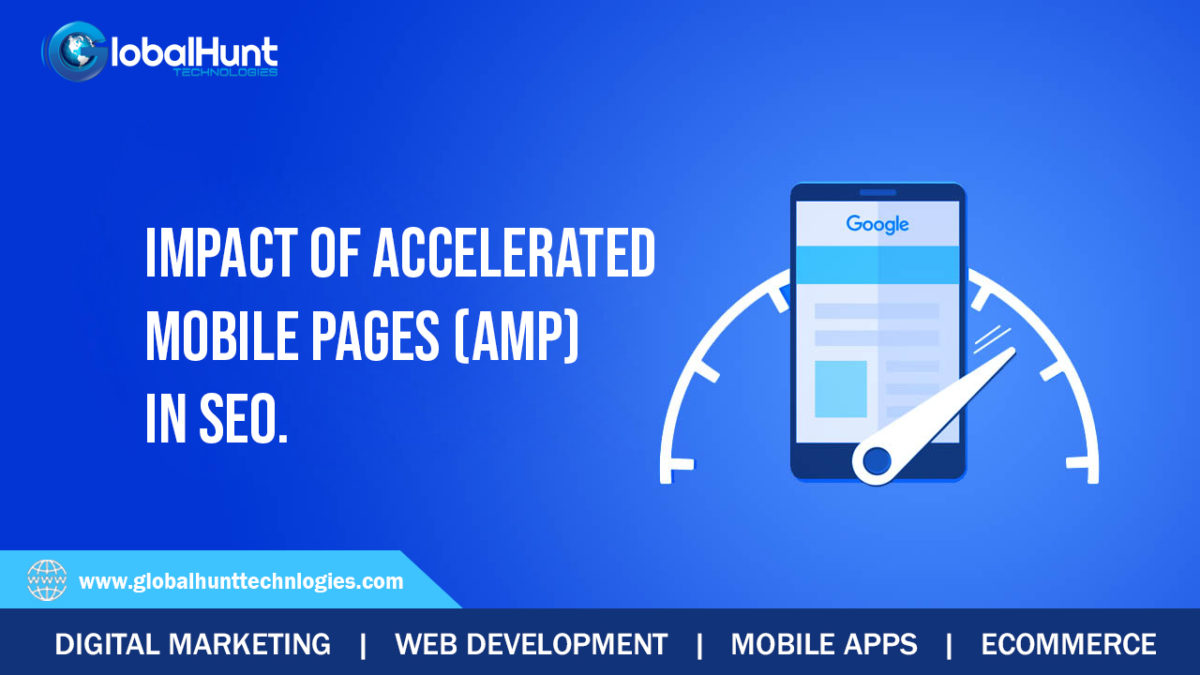 Without an iota of doubt, digital marketing is evolving with every passing year and it is readily getting improved with newer updates on SEO and winning strategies that help in making your business SEO a huge success in a short timeframe. One such service that can make SEO a huge success is an Accelerated Mobile Page. Now the foremost question that might be tickling your mind would be what is AMP? How can you get started with AMP? What is its importance to SEO? This blog post unleashes some unforeseen facts that will help you know the benefits of AMP on SEO service, so remain hooked to this blog.
Let's discuss some basic on AMP before unveiling its importance to SEO
What is Accelerated Mobile Pages?
AMP also an abbreviation of Accelerated Mobile Pages and hugely known as an open-source framework that quickens the rate at which the numerous mobile pages are loaded. This framework helps your readers to read your content at a fast pace on their smartphones and smart gadgets – which automatically risen the number of readers reading your content and brings voluminous traffic to the site.
The speedy framework generated by AMP improves the loading speed of your business website by eradicating the elements that are responsible for loading your webpages a little slower on readers' mobile phones. These elements that are the cause of slower web page and website loading speed are third party script or javaScript, but AMP makes sure to eliminate these elements that are the main cause of the delay in website loading speed.
What is the prominence of AMP to SEO?
Before answering this question we would like you to know about the website bounce rate and what are the repercussions of a higher bounce rate of any business website? Higher Bounce rate – means your website is open by the viewer for a very short time less than 5 seconds and then the viewer went page without exploring. The higher the bounce rate more will be your business negative impression on Google. Search engine never trusts a website that has a higher bounce rate – it looks like a business is not providing the apt services or interesting services that people are looking for. The repercussion of the higher bounce rate could make business online rank to reach its vulnerability.
Now, the primary reason for the high bounce rate of any website is poor loading time, it takes too much time to load and time is the only thing that people can't afford in today's busiest landscape. The role played by AMP in improving your mobile webpage loading time comes into action. It is true and legit that the prominence of this framework is to make your business mobile pages load faster. As a writer or marketer, your business content will be visible to your readers. The research unveils that 45% of online users will leave your website if it takes more than 5 seconds to load – which exponentially increases your site bounce rate.
Role of Accelerated Mobile Pages
With AMP your website will load fast and the bounce rate will be less and helps your business content to be visualized by numerous people. Another major significance of the AMP framework is to shift your business rank to the top position on SERPs. Being business-savvy you might be curious about Google algorithms, you must be cognizant about an interesting algorithm that is the Mobilegeddon algorithm.
This profoundly known Google's algorithm rewards websites that are user-friendly and mobile-friendly. With the AMP framework, your website will be both user-friendly and mobile-friendly; it will be ranked high in search results. This is what we expect from a successful SEO campaign – a business website is ranking high on SERPs.
The success of SEO hence relies on AMP which will drive traffic on your website. Along with it, it can make your business mobile pages more visible to the audience. Many times the glitch that arises in SEO services is not known after you have been marketing your business so rigorously on search engines by doing on-page SEO and off-page SEO. It is the bounce rate that could also make your business online rank its prey. Also, you must not overlook the important loading time of the page. So, we can that AMP compliments the success rate of SEO service which can bring a world of difference to a business online rank.
How to get started with AMP?
There is the ain restriction of the framework that you have to comprehend before starting AMP if you are fine with the imposed limitation. That AMP framework has then you can get it started for your business website. The very first thing that you have to do is install a Word Press plugin. It is an open-source platform available to all then you should edit .htaccess and also make some changes in CSS to make AMP look like your website.
Conclusion
AMP instantly increases your website loading speed thus provide the user with a great browsing experience which in turn increases your website views. There are certain limitations with the framework but the advantages are many. If your website is to take benefit from AMP features then you have to consider working under some restrictions.
No doubt, with AMP your website will experience a sky-rocketing bump on SERPs ranking and in search results. Are you intrigued to check the thriving response of amalgamation of SEO and AMP? Then get in touch with our dexterous digital marketing expert who will help you in making the right choices when it comes to picking the best digital marketing services. Ping us your requirement today.