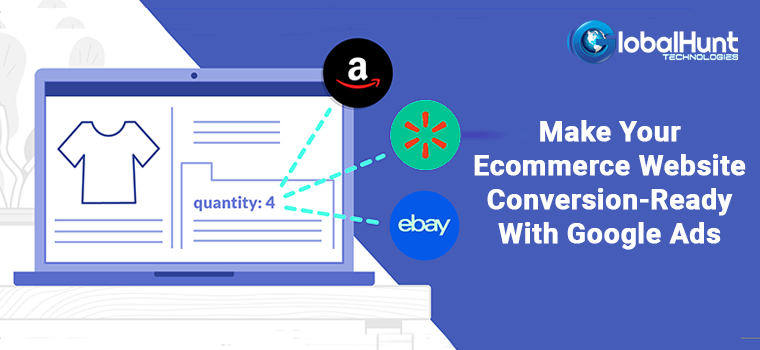 As you're eager to run a Google Ad campaign for your eCommerce business, you made sure all the crucial preparations are in place to ensure success, such as ensuring your brand identity is flawless, setting realistic expectations for budgets and timelines, and designing your unique selling proposition.
How do you proceed? Ensure your website is conversion-ready.
Customers will find you at your virtual front door thanks to those precious ad clicks. To spend money and time on Google Ad campaigns, we have to make sure the door is open wide for visitors.
Here's how we'll make that happen:
Website CRO Best Practices
Preparing the Product Page
Media (Images and Video)
Lifestyle Images
Robust Titles and Descriptions
Live Chat
Best hands-on practices for website Conversion Rate Optimization
It is without an iota of a doubt that Building an eCommerce store isn't that challenging work
Are looking forward to developing an eCommerce store that converts? Congratulations on this bold choice. Outlined below are a few CRO hands-on practices that guarantee that your website will pump up your business sales figure.
The Big Three:
Common Website Errors and Issues
If your site isn't working correctly, you won't be able to drive traffic to it, so you should ensure you catch any errors. Be sure that your site is functioning properly and there are no critical issues or errors regularly (at least once a month). Conduct your website audit at least one time a month.
Website Speed
According to Google, your website speed impacts your quality score vastly; in fact, it is slightly more important than content. A few things to consider:
Due to the smaller size of the device and the often slower internet connection, mobile users will have a smaller tolerance for slower websites.
Large image sizes are one of the leading causes of slower websites.
Engagement with mobile devices
Mobile devices account for 60-65 percent of all website visits. As a result, make sure your website is mobile-friendly!
Examine your conversion path: while many purchases are made on desktop computers, much of the research is done on mobile devices. To put it another way, think about each phase of your buyer's journey so that you can make it as simple as possible.
Checklist for Conversion Rate Optimization
Now, it's time to put those best practices into practice. First and foremost, go over this CRO checklist to ensure that customers have an easy time purchasing from your site:
Everything is in working order, and the website loads quickly.
Your email address or phone number can be found in the header or footer: Customers want to know that they can rely on you.
Your viewers will enjoy the style of your website: Make sure the design is focused on your product and does not detract from it.
The photographs on the website are of excellent quality.
CTAs are in contrasting colour (bright and bold) and are easy to find.
Products are detailed thoroughly with all characteristics displayed.
Badges confirmation (BBB, SSL, secure payment, guarantees, free returns, etc.)
This improves the credibility of your website and brand.
Make a badge out of anything you offer (free shipping? Make a badge out of it! Returns are free? Badge! It's a lot more fun than reading text.)
Quality assurance checkups
To ensure that your site is working at its best, it is important to schedule quality assurance check-ups in your monthly standard operating procedures. This can be accomplished by both internal and external quality assurance. Pretend to be your own customer for internal QA. External quality assurance: Have someone else act as a customer.
Checklist for Website Speed Optimization
Select a soft theme. A talented developer can greatly increase the speed of your site—but don't rely on customizing too significantly.
Ensure your graphics are scaled correctly. You can try Pic Resize.
TinyPNG can help you reduce the size of your photographs without sacrificing quality.
Limit the number of plugins/apps you use.
Limit the number of products displayed on category pages.
Check in on the speed of your website. PageSpeed Insights is a useful tool. Aim for a decent user experience rather than a perfect score.
Preparing the Product Page
The most crucial pages on your website are your product pages. In most cases, it's your traffic's landing page: your first impression. Many companies invest a lot of time and effort into optimizing their homepage, but they overlook the product pages that buyers visit. What's the worst-case scenario? Only product pages can benefit from smart shopping. So, let's make sure your product pages are shining brightly:
Things to not overlook while making a product page checklist.
Product title and subtitle
Product description
Product media
Nested navigation
CTA
Product Media
Here's the deal with including photographs on your website: You don't have to be a pro photographer to do this. In truth, to make high-quality photos, all you need is:
A mobile phone or new iPhones or Samsung do a really good job
Natural illumination on a basic white background
Don't get too close.
Don't use the flash on your camera.
Also, if you're able to, edit your photos (check Fiverr or pixc for outsourcing options).
That's all there is to it!
Remember that your images should provide context and highlight product specifics. If your product has a distinguishing trait, it's best to describe it in the descriptions and demonstrate it in the photographs.
Product Media: Lifestyle Images
Lifestyle images are critical when it comes to product media because they allow customers to see the product in action.
Here are some tips:
Give context: It is okay, doesn't let your product be the main subject of the photo. It could be in the background – like this poor Nespresso in competition with George Clooney's eternal charm:
You can use photos from your Pinterest or Instagram. Instagram is another platform where you can contact influencers in exchange for promotional content. You can try out imagency.com to find influencers
Place a YouTube video on your product page that shows an overview of the product.
Use Detailed Titles and Robust descriptions
It is better to use product title and description to tout the transformation. Remember that the description sells the changes, not the core product. Make sure you include keywords that Google understands in the language your avatar uses.
Try to include detailed specifications such as weight, feature, and size.
The ultimate goal is to have better communication with search engine Google, so use friendly titles and detailed descriptions.
It is possible to reuse good descriptions. Time and energy are both valuable commodities. Quality descriptors can be utilized in ad text and on other product sites.
Live Chat
We can't stress enough! One should have an option of live chat on your website. Here's why:
Identify errors: Use the live chat to assemble questions from visitors and offer answers to future customers on your product pages. Add helpful information to the top of your product pages.
Find out the objections: What questions do customers ask before abandoning their cart? What concerns do they raise in live chat? You can gain insights into what holds them back from purchasing live chat.
Enhance conversion rates: You have a better chance of converting customers by being there for them throughout their virtual journey.
Conclusion
Running a Google Ad campaign for your E-commerce website will not only shoot up the sales figure of your website but also help your website to drive in more traffic, which will aid in improving your SERPs' ranking on the internet. Whether traffic is landing on your landing page through organic sources or inorganic sources, it does not matter. All that matters is for a reputed e-store is its fame on the market which eventually kick-start business sales. So, running a Google Ad campaign for your e-Commerce website is worth every shot! Looking for the best digital marketing agency having a proven record of running a successful Google Ad campaign for an e-Commerce website? Your search ends here with us at GlobalHunt Technologies. Get in touch with us today.