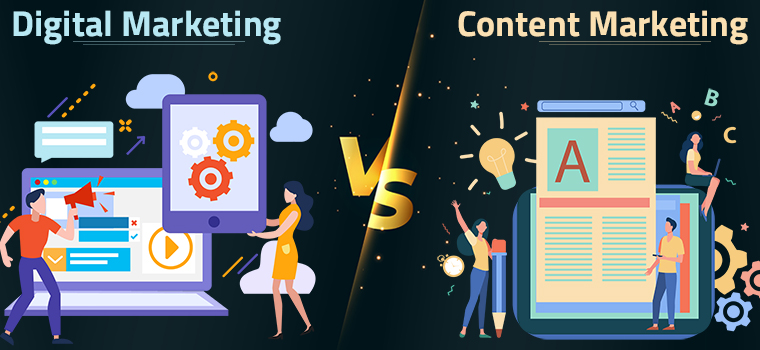 With the technology change, the marketing trends have also changed for every business that is turned its presence online. Now, while choosing the right form of marketing for your business you might get confused about content marketing vs digital marketing which is better?
Many marketers and sales professionals use these digital and content marketing terms interchangeably. But, in reality, these marketing strategies are totally different concepts, and everyone should know the difference between content and digital marketing for their business growth.
So, Is Content Marketing part of digital marketing? How Does Content Marketing Work With Digital Marketing? Is Content Creation Same As Digital Marketing? Which Digital Marketing Is Best? Let's find out the answers to these questions in detail.
Difference Between Content Marketing And Digital Marketing
Let's discuss the differences between these two marketing forms. Also how they may be used together to increase brand awareness, conversions, and customer retention. Digital marketing is a subset of marketing communications that incorporate digital technologies, mainly web-based computer networks, to deliver promotional messages to consumers.
In comparison, content marketing is about sharing valuable information with your audience. This is a type of advertising that helps businesses gain market share and reach out to potential customers. If done right then both digital marketing and content marketing are effective tools for promoting business and reaching audiences. But how do you know if you're doing them correctly?
What Do You Understand By Content Marketing?
Content marketing is the most important concept in terms of marketing. This is a solid strategy for creating a different type of valuable and quality content that includes blog articles, infographics, videos, web content, and so on.
The main goal of content marketing is to build trust and rapport with your audience as well as end-users with the help of engaging content. There are many forms of content available on the browser. Initially, brands liked to have only text-based content on their website but in today's scenario content is used in a variety of forms for branding and marketing purposes.
What Are The Different Types Of Content Marketing Available?
However, content can be consumed in a variety of forms by the users. Therefore, marketing strategies are different to produce the best and top-notch content in your particular niche. These include:
Blog Posts: Blogs and articles on a website are one of the most important things for online businesses. For better search results you have to regularly update some quality content on your website to engage your targeted audience by building strong trust in them.
Different types of video: For spreading more knowledge related to your business, you must start using video content. As people prefer to watch a video compared to reading written content. When we compare content marketing vs digital marketing, video sharing plays an important role in it. Thus, the information you are sharing in video is also a type of content. If your content has a strong appealing voice that people will gradually share on various social media platforms like Facebook, Instagram, youtube, and so on.
Detailed Case-Studies: This type of content is used to educate the users on any particular product or service. For example, there is a new software launched into the market and many people are unaware of its pros and cons. Therefore, with such case studies, you can help your audience to acknowledge them.
Informative Guide: Content marketing also includes sharing some informative guides. Now, this can be anything whether about your business or someone else's services. Your main objective is to provide true or unbiased information to educate the people on a particle topic.
Product Reviews: Many companies share their product reviews with their customer to make their authenticity. Somehow, many other companies will test a particular software and then give their reviews. With this source of write-ups, many brands will engage in this type of content marketing.
Infographics & Photos: With the high demand for social media content, people like to share infographics and photos in which they discuss their goods and services in short words. People will consider this type of content marketing is very effective for their business.
e-books: This type of content marketing is usually seen in the education niche. One can use e-books for any particular subject to share and get more reach.
Create a strategy employing best practices before you start the content marketing process. This includes establishing and maintaining your brand's voice, creating backlinks to your website, developing an editorial calendar, researching keywords and hashtags. Such terms are part of digital marketing or content marketing which we learn later on.
What Do You Understand By Digital Marketing?
To reach more audience digital marketing is the new type of approach that is used for marketing. This will include different types of strategies and techniques to understand the need of users by tracking their past online purchases and browsing searches.
Such type of marketing involves using online platforms to create awareness of companies and their services among target audiences. Companies use the internet to communicate with current and prospective clients.
Digital marketers often try to attract individuals who visit social networking sites. These sites allow users to post comments or opinions, rate pages, upload pictures and videos, list contacts, and search for friends. Therefore, they have become a powerful platform for businesses to promote their brand and website.
It is now possible to provide exceptional customer care via digital channels. Many organizations are adopting CRM software applications to improve customer service. By keeping tabs on the interactions of each consumer of its product or service, a company could identify opportunities to enhance its offerings or correct any mistakes before negative publicity.
What Are The Different Types Of Digital Marketing Available?
We have mentioned a query above in this guide is content marketing part of digital marketing? And its answer is yes. Content marketing is also a part of digital marketing. However, many other online marketing strategies are considered when we do digital marketing for a particular business. These includes:
Search Engine Optimization (SEO)- Regular SEO activities include blogging, building backlinks, and internal linking. Search engines then rank your content based on your keywords after you've finished your optimization. As a result, search engines display your website when users enter keywords depending on your rankings. Now, a poorly optimized website won't appear to your potential customers, which will result in a drop in revenue.
Social Media Marketing (SMM)- Social media and content marketing are similar in that they both just contain posts. It seeks to raise brand recognition. You may not be aware of it, but content marketing and social media marketing are much more interdependent than you might think. Sponsored adverts and retargeting are both included in digital marketing via social media.
Pay-Per-Click (PPC)- Digital marketers who use PPC, or pay-per-click, are charged a fee each time one of their ads is clicked. Simply put, you only pay for advertising when a user clicks on your ad. However, in PPC you can also find a difference between digital marketing vs content marketing that how consumers use the information. In essence, it's a way to 'purchase' website visitors in addition to generating them naturally.
Video Marketing- The approach used by marketing teams to produce, curate, and use videos to advertise their goods or services to their target market is known as video marketing. The goal is to maintain audience engagement with the company in an approachable and understandable manner.
Email Marketing- Information, offers, and blogs are delivered right to your contact's inbox when using this type of digital marketing. It is a terrific approach to reach out to your target market and persuade them to purchase your goods if done to boost your conversion rate of leads into consumers or to keep existing customers. You attempt to spam your leads or clients into purchasing your stuff by using well-written content.
Guest Blogging– As part of their content marketing and SEO strategies, people use guest blogging and guest posting to promote their brands and companies by writing articles for other websites. Guest bloggers frequently contribute articles to blogs and websites with larger audiences that are relevant to their profession.
Affiliate Marketing- In this marketing system, partners are paid for new business brought about by the affiliate's promotional efforts. Affiliate marketing has become a billion-dollar industry thanks to digital marketing, analytics, and cookies.
Content Marketing- By producing and disseminating pertinent articles, videos, podcasts, and other media, this marketing technique aims to draw in, hold onto, and grow an audience. When it's time to buy what you sell, people will think of your company first thanks to this strategy's promotion of brand awareness and establishment of competence. This is the best answer for those who think about how does content marketing work with Internet marketing?
What Is The Role Of Content Marketing In Digital Marketing?
As discussed earlier, Content marketing is a type of digital marketing where companies create and distribute articles or videos about their brand or products. These articles are called 'content' and they use different media formats to get people's attention. Examples of content include images, text, audio, video, infographics, and social media posts.
According to HubSpot, 65% of business executives believe that content marketing should be a priority over search engine optimization (SEO). However, only 11% have implemented content marketing strategies. According to the Harvard Business Review, content marketing generates 12 times more leads than traditional advertising methods. So, if you want to increase traffic to your website and capture more leads, then you need to implement content marketing.
How Does Content Marketing Work With Digital Marketing?
The first step of content marketing is planning. You need to know what kind of audience you want to target and what your end goal is. Then, you need to figure out how you are going to reach them either by content marketing or digital marketing. Once you know who your ideal customer is and how you plan to reach them, you need to determine what types of content you will produce. There are three major components to content marketing; creation, distribution, and engagement. That is why content writing is important in digital marketing.
Content marketing works best when it comes to building trust between your brand and potential customers. You want to create valuable information that is useful to your audience. You also want to share that information on your social media profiles.
If someone sees your posts about how to save money on groceries, they'll likely follow you on Facebook or retweet you on Twitter. A lot of companies will hire freelancers to write articles and blog posts. While it may seem like a quick fix, hiring freelance writers is not a long-term solution. At some point, you're going to run out of topics, and then what?
Once you've created high-quality content, you need to distribute it across various platforms. Social media is a good place to start sharing different types of content in digital marketing. Next, consider publishing it on your company website. Finally, email lists are a great way to keep your contacts updated on any new developments.
Digital Marketing Vs Content Marketing- Compare Marketing Trends
When it comes to comparing content and digital marketing then the most important aspect that one should consider is the marketing trends. So that is how we can conclude that content marketing is a type of digital marketing and both types of marketing are important for your business. Let's get a deep dig into this:
Digital Marketing Trends And Statistics
To achieve greater growth, 63% of organizations boost their spending on digital marketing.
Organic SEO, according to 49% of marketers and business owners, provides the best marketing ROI.
Nowadays, digital marketing accounts for around 55% of all marketing.
Before making a purchase, 93% of people examine online reviews.
After seeing display advertisements for a company, 27% of buyers search for them.
33 percent of all digital ad spending goes to social media.
To grow their firm, 87% of companies employ email marketing techniques.
Consumers claim that they rely on their assessment of a company's legitimacy on its website in 75% of cases.
Content Marketing Trends And Statistics
Businesses said they intend to boost their spending on content generation by 46% as per research.
61% of content marketers anticipate higher expenses for the live event.
To gauge the effectiveness of their content, 76% of content marketers utilize organic traffic as a critical indicator.
The top content marketing strategies used by B2B marketers include 87 percent email campaigns and 77 percent educational content.
75% of large enterprises, 54% of medium-sized businesses, and 37% of small businesses report outsourcing some of their content marketing initiatives.
The top three content categories used by B2C marketers are social media, blog posts, short articles, and email newsletters, which account for 94%, 80%, and 74% of all content usage respectively.
Online marketers and 97% of consumers agree that videos assist customers comprehend their products.
41% of bloggers create content around original research.
After analyzing these digital marketing vs content marketing trends one thing is clear content marketing is key for growing business along with digital marketing strategies
Final Verdict On Content vs Digital Marketing
With this complete guide, one thing we understand is that both content marketing and digital marketing are important for business growth. With quality content, you can't promote your goods and services through any medium. Similarly, with digital marketing strategies, you can't utilize that content in the right direction.
Now, you understand the actual difference between digital marketing and content marketing. Therefore, you can also hire a professional marketing services provider that can help you in running your business to the next level. Thus, GlobalHunt Technologies will provide you the professional solutions for both content writing and digital marketing strategies. Contact us now to get the right solutions.
Frequently Asked Questions
Why Does Content Writing Important In Digital Marketing?
Digital Marketing includes various strategies to make an online presence. This includes blog sharing, product reviews, comments, news, and so on in which content writing is very important.
What Is Content Management In Digital Marketing?
A content management system (CMS) is more particularly a piece of software. This enables users to work together on the creation, editing, and production of digital material, such as web pages, blog entries, etc.
What Is The Purpose Of Content Marketing?
To attract and recruit a clearly defined audience and to motivate lucrative consumer action, content marketers create and distribute valuable, pertinent, and consistent information.