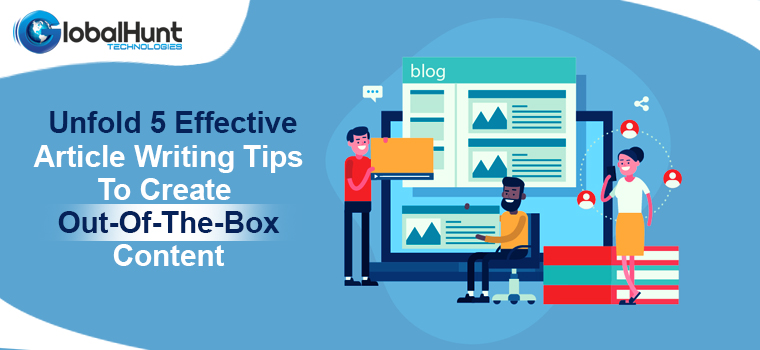 Every digital marketer can reap the benefits by having the writers with the best article writing skills. When you think about the digital market, you will find that all internet promotion requires unique and informative content. The content written by the writer majorly focused on the target audience's requirements and the online search done by them.
To create well-researched, informative, and persuasive articles, you need to learn some writing tactics. However, when you start practising those sure-shot article writing tips – the sky's the limit for you. Following those effective tips, you can produce popular articles that will help you sell your business services or products more efficiently.   
For many people, writing something on a piece of the page is very as simple as learning ABC. On the contrary, to some, it is a complicated task to write even a small paragraph. Are you finding it hard to write your own articles? If so then you will definitely find the following article writing tips useful to create great content that receives maximum thumbs-up.
Use the tools to find popular topics
The primary step, to write a great article is to think on a good topic. If you experiencing chills down your spine to decide on what your target audience is looking for then we have tools to help. These tools will help you pick a topic that is highly enquired by the people as they really want to read about it. Semrush Topic Research Tool is specifically designed to help you find the best topic that will make your article – the most talked about.
The tool will illustrate the subject matters that match your target audience's search results. It will unfold the most demandable existing pieces from various websites. All you have to do is log in to certain tools and type a keyword to check the outcomes. The research tool will give you potential subtopics about, which your audience is interested to know. You can optimize the results by:
Volume

: It refers to the number of searches for a specific keyword in a definite timeframe. 

Difficulty

: The counts of people at present trying to rank for a specific term. You will realize how tough it will be for you to rank for the given term, in this cut-throat competition.

Topic Efficiency:

It is based on the result of the above two factors combined.

Trends

: The most popular topic discussed on the internet from the past two months.
 When you click on subtopics, you will get more detailed information about resonating headlines, FAQs people are interested to know, and search-related queries.
Now, with this tool, you very well know what information users want to read about business. You will also come to know how much beyond you have to go to fill a gap in the market. Choose some trending topics for your article and start tapering them down.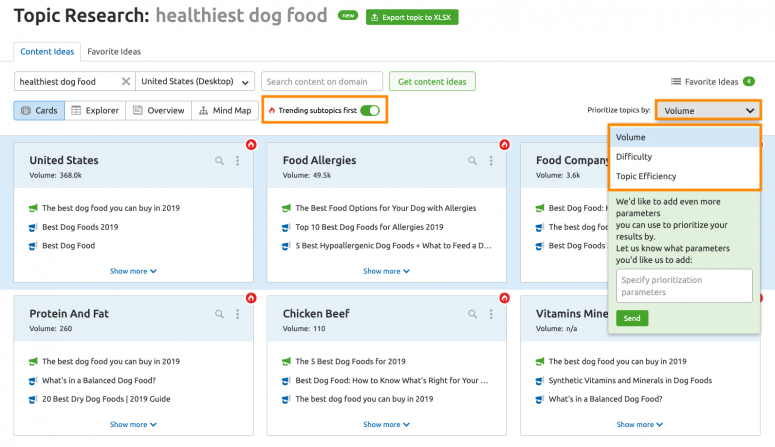 Use SEO/PPC Keyword  search tools to find your target keywords
Once you have an interesting topic in your mind, the second most important step is to find your keyword. Yes, you need a competitive keyword to optimize your article so that it ranks high on the SERPs. To discover appropriate keywords for your article, you might need another tool to help. You can make use of Semrush Keyword Magic Tool to write SEO-friendly articles. It will help you to find valuable and competitive keywords. With just one click on this tool, you will find countless long-tail keywords.
 For a particular topic, you will get thousands of keywords that can spin your head. There is no need to despair by seeing innumerable options. It is simple to search and choose the best-fit keyword, how? One can check on their relevancy, keyword difficulty percentage, volume, cost per click, features, competitive density, and search results in SEEPs. You can use a match modifier to taper your search – a step beyond.
Besides all this, what is the most important step is to choose and compile your keywords. After, this you'll know the terms that you should include in your text so that they show at the top of Google's search results.
 There are two crucial bonus tips to use this tool:
Use words with high Cost Per Click (CPC) as they are related to high buyer intent. Procuring a higher ranking for these words means high ROI. However, sometimes retaining high ranking position is very challenging.

Don't be hesitant of using long-tail keywords that often have lower search volume. Targeting long-tail keywords on your article will be easier for you to rank them on the first page of the SERPs. It is because competition is less for them.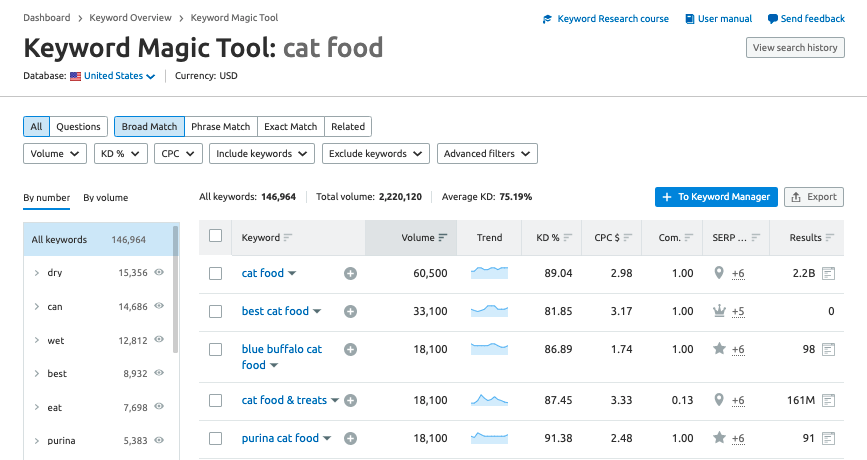 Comprehensive research at every step
Obviously, article writing tips and hints are meaningless without continuous, old-fashioned research. When you are writing an SEO-friendly article, you would want it to read by a maximum of people and get it popular. You need to conduct your research regularly to understand the present trends of article writing on Google. You have to research your niche, competition, and target audience; before you start to write. Your article should be informative, should talk about real facts and figures, and prove rewarding for audiences.
Once, you have identified your topic and related keyword that will improve your article ranking on the search engine, now it's time to present them accurately. To avoid falling prey to Wikipedia wormhole, limit your research work around keywords. Then make use of FAQs and enquire about keyword-related topic searches. These features will help you know the information that your target audience would want you to provide through your article.
You know while doing research your clock is also ticking fast, so set a time limit for the research work. Don't spend too much of your valuable time researching insignificant things, you might then end up running out of time. Better do smart work that saves you time to write and also helps you find some great articles on your topic.
If you are aware of a reputed site that you trust in your niche and want to learn from their highest-ranking write-ups then the best tip is to Google "site:" before the site's URL. After this, add the keyword you are searching for.
Whether you're looking at Google or exploring the shelves of your nearby library, reading well-audited content on your theme is an extraordinary method to ensure, you have done your research in the right way.
For article formatting use SWA (SEO Writing Assistant)
You have done the above steps, probably, and now you are set to start your first article. It is high time to find out some essentials. Before your article gets published, you need to look after how nicely your first draft is penned.
Yes, you can proofread your write-ups yourself, spend time reading the text, check plagiarism, and compare it with articles written by competitors. Then, you could spend another few hours proofreading it once again, or ask a friend to take a sneak-peak. Another way that could save you time, let SWA an article formatting tool take care of it. To use this smart tool, you have to implement a few great suggestions.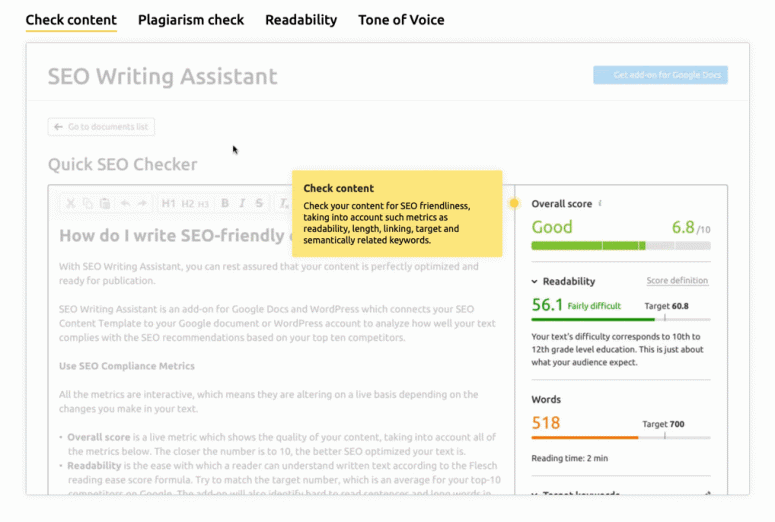 The process to check the article is easy. Paste your article into the text box, and get the feedback right away. This tool will tell you to know how well your draft is written.
SWA tool check for several different attributes within the article and they are:
SEO: Get suggestions for the target keywords that could enhance your content and improve your SEO execution.
Readability and word count

: It finds how difficult your content is as compared to the average score of your best 10 Google contenders. It also checks your content length matches the average for your article's topic.

Linking

: Gain proficiency with the ideal number of links for your content, uncover broken connections, and recognize links without anchor text.

Title

: Check that your title is of the right length, and it also checks that you've used your target keyword in it or not.

Tone and voice:

It checks whether or not your text tone is in line with other articles written on the same topic. It easily highlights the most causal sentences present in your article.
Have you noticed one remarkable benefit of using the SWA tool? Yes, it allows you to compare your draft with one that has been already published in the competition. Using SWA, it for sure that your article is levelled at least equal, with those of competitors. This is one of the most effective article writing tips.
Optimize your Meta content, H1s, and URLs
 Great article writing is making use that how and where you have used keywords to make sure it is SEO-friendly. Article wHere is a brief description of where to use keywords in your content, URL, and Meta tags.
Optimize your content: To create a well-optimized article, you must include keywords in the H1 heading tag and H2 heading tags. This will improve your SEO performance because crawling H1s and H2s is still a very important part of Google's search ranking algorithm.
Optimize your Meta and URL: If you want your article to get maximum clicks on search engines then pay attention to optimize URL and Meta content.
Some tips to optimize Meta title and descriptions:
Write eye-catchy title and description for every article.

Don't make your title and description too long. The title should not be more than 60 characters, and the description should be in the range between 140 to 160 characters.   

Make sure to include target keywords. Add CTA in the description.
Key tips to optimize URL:
Use keywords

Make it simple and easily readable.
These are some nitty-gritty article writing tips to publish high performing content. Need more assistance in how to make your article look more appealing and clickable on SERPs? Reach out to us today at GlobalHunt Technologies a distinguished digital marketing company is here to offer you extremely certified Content Writing Services. Contact us today!