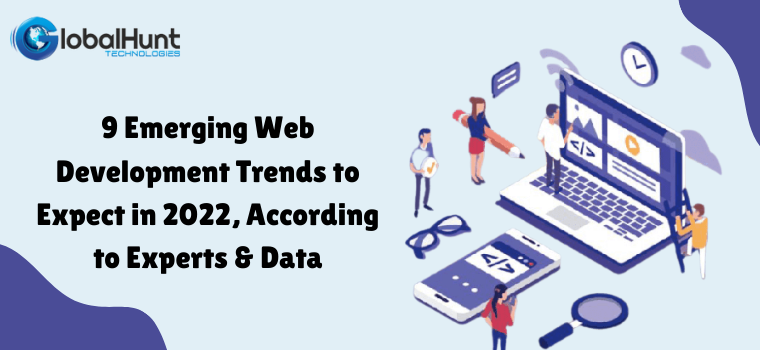 According to the stats, over 1.8 billion active websites are running on the internet at present. With this guide, we are going to discuss 9 top web development trends to expect in 2022. Let's dig deep into it and know which tool is best for web development?
Latest web development technologies in 2022 challenge many businesses to preserve their position in this digital era. That is why businesses have to keep pace with Emerging Web Development Trends and Technologies to stay competitive. 
9 Trending Web Development Technologies In 2022 
Comparing previous statistics of most trending web development shifts, we analyze the increasing influence of AI heading over other trends. This will be the reason why we look at these annual shifts regularly.
Nowadays, half of the internet is flooded with millions of websites. Everyone expects their website to load fast and work seamlessly without lagging. Being a user, if any website takes more than two or three seconds to load, we leave immediately and switch to another site. This can put a bad effect on your website by increasing the bounce rate. 
Remember, the website performance will directly impact the company. Knowing the user's behavior and expectations, these web development trends keep on changing with new challenges. 
Now, what do you think will be the biggest trends in future web development? Let's just explore by digging deep into it.
A-List of Current Trends in Web Development
Accelerated Mobile Pages (AMP)

Voice Search

Artificial Intelligence Powered Chatbots

Single Page Application

WordPress Development

Dark Mode Standardization

Progressive Web App(PWAs)

Server-less Architecture

Improved Native Cyber security
Trendy Technologies Expected For Web Development In 2022
Accelerated Mobile Pages (AMP)- To Load Mobile Content Speedily
AMP is one of the most emerging web development trends in recent times. With the help of AMP, the loading time of web pages will reduce and decrease the bound rate on various websites. 
If you optimize your websites with the updated SEO trends and use AMP technology then your site will perform much better. Applying Google's AMP you can improve the user experience as well as core business metrics. That includes the number of conversions you get on a particular web page. 
AMP usage, however, the trending slightly decreasing but most of the mobile technology is still running on this trend. 
Voice Search- An Optimized Navigation That Reduces Texting or Typing
In the most recent web development trends 2022, voice recognition technology has taken center stage. In response to this growing trend, Amazon, Apple, and Google have all released smart speakers. Web designers strive to create websites that are accessible to those with hearing and vision impairments.
Apart from saying "Hello, Google/Alexa," we can see this trend driving an entirely new set of gadgets . For example, all smart home devices, office assistants, Siri, and Alexa rely on voice control and command listening. Most of the web applications as well as websites will follow this trend as a result of there effect.
Artificial Intelligence Powered Chatbots- Upgrading Essential Tool For Communication
Most often, a web developer is now using AI technology to create a virtual assistant that can easily communicate and assist the users. Without taking to headaches, it can also conduct and collect important analytical data. What will be trending in 2022? Without any hesitation, we can say "Chatbots". 
They interact with the users that visited your site, answer their queries, help them in navigation, and land the user at the pricing page. However, this technique can increase the user-engagement rate by improving the site's ranking over the browser. 
Nowadays, many developers use AI-powered chatbots, to get their desired information in just a couple of messages. 
Single Page Application- Offers Amusing User-Experience 
Another web development trend is that pertains to user comfort and process simplification is SPA (single page application). SPAs are mostly used to simplify site navigation by focusing on a single type of data on a single page. This will benefits to users as they allows them to search for something with putting less efforts.
As a result, online retailers or platforms that offer a variety of services quickly adapt the SPA approach and utilize it to create information blogs or product listings. Similarly, online new websites do this to divide the news into several categories.
WordPress Development- Provide Extra Customizing Features On Website
Over 40% of websites are now created on CMS platform that is WordPress. The demand for such platforms is constantly increasing as the web development trends and technologies are keep on changing. This is an open-source platform that persistently adds the latest features and tools to meet users' demands. 
With the increasing demand, the company will be going to unlock huge options that include block editing functions to the entire website. Along with new upgrades, WordPress brings various new options to build a unique and user-friendly website with all the new search engine tools.
Dark Mode Standardization- Become More Popular Web Development Trend
Just as dynamic and static websites are popular, similarly, users start getting attention on dark and light theme websites. Just like, many social media platforms implement the feature of using the dark theme, Google also brings the same. 
Therefore, more developers provide a similar built-in feature to switch between dark or light mode. This will count as one of the most useful web development trends that are adopted in 2022 and beyond. 
Progressive Web App (PWAs)-  Uplift Advanced Website Technologies
These are web applications that are specifically intended to load using progressive enhancement. PWA is one of the year's top web trends because of its fast loading and high functionality features. 
They are popular because they are accessible and reliable, as they can be visited from any device and from any location. It does not require the installation of a separate mobile app to utilise. If you've ever used the Uber app, you'll know that it makes use of Progressive web app development to give a smooth and linear experience. It gives users access to all of the features of the native mobile app even offline, and it's anticipates to be the most popular web app in 2022.
Server-less Architecture- Helps In Avoiding System Overloading
To know what the top web development trends are in 2022, you can check out this ongoing search for the latest technology. This can help a developer to reduce system overloading, data loss, and other development costs. 
Basically, this serverless architecture has worked over the cloud technology that allows users to run various code virtually. With the support of significant providers like AWS, serverless algorithms were developed as part of the cloud computing execution model. Traditional servers can be replaced by cloud-based technologies that manage machine resource utilisation.. 
These trends are efficient in reducing development and support costs, increasing the flexibility of apps, and making them more internet-sustainable.
Improved Native Cyber security- Prevent Your Website From Hacking
This is the most important practice that every developer should follow. One of the stressful concerns of everyone and another developer is to keep the data, network, and system secure from unusual hacking or misuse. 
As new technology emerge and people become more reliant on them, cybersecurity threats are becoming increasingly widespread. Customers are aware of the growing problem and expect firms to protect their personal information with stringent security methods. Customers' sensitive and personal information is stored in the health, retail, and financial industries, which are vulnerable to security breaches. 
These industries should place a greater emphasis on data security. SSL certificates should be used to protect a company's website and data while employing the most up-to-date software. Websites with a reasonable volume of traffic should follow the security criteria and undertake security audits on a regular basis.
Final Verdict To Future Web Development Trends In 2022
In the above guide, we have listed the top 9 web development trends that are most likely used by web developers. If you are also running an online business or a website you need to know about the latest web development technologies 2022. If you are a beginner, you can consult an expert to improve your web development skills. For that instant, you can contact GlobalHunt Technologies to know the best web development services along with professional advice that can enhance your business productivity. 
Frequently Asked Questions
What Is The Future Of Web Development in 2022?
The increase in the latest web development technology is growing so far. New trends like PWA, SPA, Motion UI, serverless architecture will continue to take web development to the next level of success. 
What Is The Trending Web Development?
In recent times, voice-activated self-standing devices are kept on increasing. Using the AI-interface voice optimization is the most important and most growing aspect in the development of web technology. 
Which Tool Is Best For Web Development?
According to the latest trends, there are many software or tools available that professional developers use. These are Visual Studio code, Sass, Bootstrap, Envato, InVision Cloud, and so on. 
Read more- Make Your Ecommerce Website Conversion-Ready With Google Ads