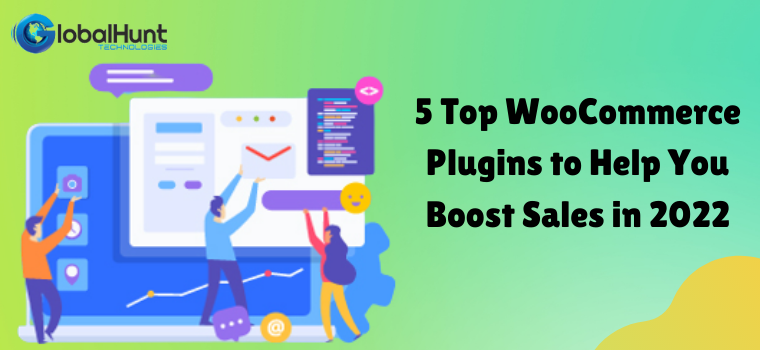 Although WooCommerce is the most common way to create an eCommerce store, the basic WooCommerce plugin isn't all you'll need to manage one.
There are several must-have WooCommerce plugins that can improve your store, no matter what your niche is, and set it up for success. These plugins will help your store load faster, send emails more consistently, and convert more visitors into customers, among other things.
We've produced a list of the best WooCommerce plugins for 2022 to help you choose among the best. These plugins will keep your sales flying all year long while relieving you of the administrative strain. We'll show you how to use plugins and extensions to improve brand engagement, boost ROI, and encourage customers to return to your online business.
What Is The Best Plugin For Woocommerce?
You'll need more than the WooCommerce plugin to run a successful store. For instance, you might want to collect monthly membership fees, sell tickets, or offer product add-ons. 
 There are a lot of complex e-commerce features that the WooCommerce plugin doesn't include. So, how can you figure out which other plugins are best for enhancing WooCommerce?
Determine the goal of your website.
 Consider what elements WooCommerce lacks that you require to run a successful business.
 Look for a WooCommerce theme that meets these requirements.
Start looking at the top WooCommerce plugins and extensions if a theme isn't cutting it.
Either buy packages to save money and plan for the future or buy individual plugins to save money and stick to the essentials.
WooCommerce Checkout technology is the undisputed global leader in the e-commerce business. According to 'Built With,' 27% of websites trust this solution with their enterprises.
WooCommerce may provide your site with versatility thanks to a limitless range of extensions. Because of the versatility, you may create a store that is as simple or as complicated as you like.
However, picking the best Woocommerce plugins from such a long list can be difficult. In terms of functionality and customer support, not all plugins are created equal.
What Should You Look for in a WooCommerce Must-Have Plugin?
There are WooCommerce plugins for every possible use, as you'll discover in a moment. Some will include capabilities such as intelligent search, product highlighting, and cart abandonment tools that are desperately required by retailers.
Others will incorporate value-added features like email follow-up, live chat, order delivery tracking, and other helpful features. The type of store you want depends on far too many factors to list here. However, we believe that every plugin you use should offer the following five critical features:
Enhance the Client Experience
Every WooCommerce plugin you install should help your customers have a better experience. This could be done in a variety of ways, including speeding checkout, providing essential functionality, introducing additional search options, and so on.
Reduce the length of the customer journey
Similarly, any plugin that provides customers with the knowledge they need to make an informed purchase decision will only benefit your business. It might be a shopping cart, a quick checkout, or a live chat option for consumer questions.
Be a good investment
Some of the WooCommerce plugins on our list are free, while others have reasonable price. Premium plugins may or may not provide good value depending on your needs. While some of the items on this list may appear to be pricey, the features and benefits they provide make the purchase worthwhile.
Simple to Use
Any WordPress plugin's usability is crucial. Whether it's simple for visitors, simple for you, or simple for both. Any plugin you add to your store should be intuitively understandable, and provide the user-friendliness we all desire.
Increase your sales
All plugins should assist you to increase sales, whether directly or indirectly. Whether it's directly like cart abandonment plugins or indirectly like product highlighting or online forms, they're all worth implementing if they help your store run more efficiently.
Conversion is the lifeblood of any company, and it has a direct impact on revenue. As a result, the owner can increase earnings by using these strong WooCommerce sales-boosting plugins. Let's get this party started.
YoastSEO Plugin
YoastSEO is a must-have WooCommerce extension. It's one of many high-quality SEO plugins we recommend, and you should give it a shot. WordPress and WooCommerce aren't built to be SEO-friendly right out of the box. You can use the hugely famous YoastSEO plugin to address this.
It will help you create important SEO and social media metadata for all of your products. Thanks to the premium Yoast WooCommerce SEO add-on, it may also help you add structured data and increase your Pinterest and Facebook metadata with facts like pricing and stock status.
Yoast SEO's Benefits:
This full SEO plugin for WordPress and WooCommerce includes everything you need to rank higher in WordPress and WooCommerce.
You can choose from a variety of features and settings.
Includes Utility plugins for WooCommerce.
All of the features are available in the free version.
Pricing for Yoast SEO
Yoast SEO is available for free, with premium options beginning at $89 per year and $49 for the WooCommerce SEO plugin.
Smart Coupons For WooCommerce
It offers a new selling factor to any online store. It's a fantastic WooCommerce plugin that allows you to boost sales using vouchers, freebies, shop credit, gift cards, and discounts.
The plugin comes with a variety of incentives that you can utilize in your shop. Some of them can be offered only under specified circumstances, while others have behaviour-based limits. Because they can all assist enhance sales and customer loyalty, we've included them here.
Advantages of WooCommerce Smart Coupons:
 To handle everything, you'll need a well-designed dashboard.
Various promotions, vouchers, and rewards are available.
Customize conditions for triggering coupons.
Coupons and vouchers can be printed in bulk.
Includes Incentives for cart abandonment.
WooCommerce Pricing For Smart Coupons Plugins
Smart Coupons for WooCommerce has a range of prices ranging from $69 to $199 per year.
Order Delivery Date For WooCommerce
WooCommerce's Order Delivery Date does exactly what it says on the tin. It keeps customers engaged after they've made a purchase by letting them choose a delivery date throughout the checkout process. This differs from the typical method, in which your checkout displays a few shipping options along with estimated delivery times.
Customers may now choose a precise date instead of the somewhat arbitrary shipping methods that aren't always that accurate,  this proves to reduce cart abandonment. Instead, the buyer selects a specific day and can anticipate it.
Benefits Of Order Delivery Date
You can choose to make particular days and times unavailable.
The plugin allows you to set the minimum number of days it takes to ship your products.
You could want to entirely block off dates within one or two days, for example.
 You can set a daily restriction for the number of deliveries.
 The Pro Version adds options for synchronizing with Google Calendar, restricting time slots, and specifying weekend delivery timings to the feature set.
Order Delivery Date Pricing
The plugin's core is available for free. The $99 Pro Version adds a slew of new capabilities, including next-day delivery, shipment timing selection, and time slot block.
Direct Checkout for WooCommerce
WooCommerce's Direct Checkout serves a unique and potentially lucrative purpose. It totally replaces your WooCommerce site's shopping cart page, speeding up checkout and making it easy for your consumers to reach the payment area.
It's never easy to come up with ideas to make the checkout process go faster. Some stores will not like the removal of the shopping cart, but other may like it. After all, if the buyer wants to change something, they can always go back.
Benefits Of Direct Checkout
Rather than being sent to the shopping cart, consumers are redirect straight to the checkout page to complete their purchases.
You can also skip some of the checkout fields to speed up the process.
The quick purchase button can be set at the bottom of each product to direct consumers to the checkout page with just that one item.
The checkout buttons and text items can be customized.
Pricing
It's free, but there's a $15 premium option for a few more features.
YITH WooCommerce Zoom Magnifier
YITH WooCommerce Zoom Magnifier adds a zoom function to product pages, allowing shoppers to examine your products in greater detail. It allows your visitors to examine your products in detail, giving them peace of mind when making purchasing selections.
When a visitor hovers their cursor over one of your product photos, the product will zoom in. Below the product image, a slider of product image thumbnails can be put.
Benefits of YITH Zoom Magnifier
Visitors can zoom in on products.
To create interactivity, the mouse-over action moves with the cursor.
For mobile, it can be activated or disabled.
 The behavior of the slider can be customized.
It's completely free.
Pricing
Using YITH WooCommerce Zoom Magnifier is completely free.
Wrapping Up
We've compiled a list of the finest WooCommerce plugins for 2022 that you can use for your online business. We are assure that even the most inexpert online retailers will be able to optimize their WooCommerce stores using the above-mentioned list. Furthermore, these plugins are anticipated to propel web stores to new heights in terms of conversions and customer loyalty. Do contact us if you still need any major guidance related to WooCommerce. Our professional experts at GlobalHunt Technologies can help you in finding the best solution.
Read more – Make Your Ecommerce Website Conversion-Ready With Google Ads